National Highways has launched a statutory consultation on its plans to dual the remaining sections of the A66 between the M6 at Penrith and A1 at Scotch Corner.
Roads minister Baroness Vere visited the consultation hub on the site of the former Llama Karma Kafe, where she was joined by local MP Neil Hudson along with local council and business leaders.
She said: 'Whether you're commuting, visiting the area on holiday, or transporting freight, this upgrade will bring huge benefits to the area by cutting congestion and speeding up journey times.
'This consultation is a great opportunity for people and businesses to help shape the future of this project so it works for everyone.'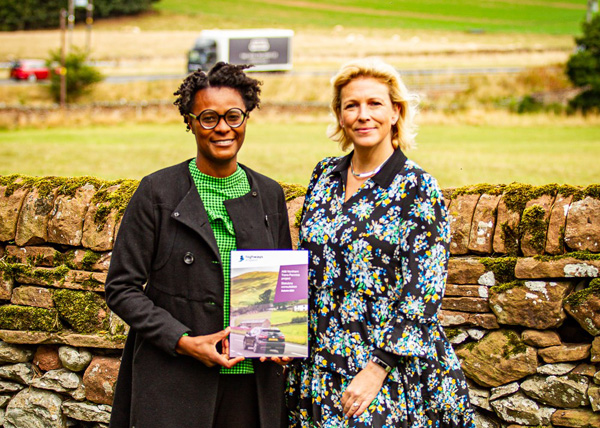 Jacqui Allen, National Highways sponsorship and development director, with Baroness Vere
Peter Molyneux, major roads director at Transport for the North, said: 'The A66 Trans-Pennine route is an incredibly important east-west route for the northern part of our region and a crucial part of building a New North, yet too often those using it face delays and congestion.
'Once finished, the full dualling of the A66 will have significant benefits for its many thousands of users.
'We're pleased to see this project progressing at pace, and continue to work with National Highways and our local members and partners to help ensure our region benefits from reliable roads as part of a sustainable, multimodal transport network.'
National Highways said the statutory consultation period has been extended from four weeks to six to give people every opportunity to express their views.
It will run until 6 November and will feed into National Highways' application for a Development Consent Order for the scheme.
All consultation materials are available on the project webpage and hard copies will also be provided for viewing in public buildings along the A66, such as local libraries. There will be drop-in sessions where the public can speak to a member of the project team, as well as webinars, a telephone surgery and an online virtual consultation room.