Rennicks is a well-known name in the highways industry and one that has been through major changes in recent years. After a recent management buyout, the company is making a big push in the technology market. Highways speaks to the new managing director Ross Bullerwell about the new direction.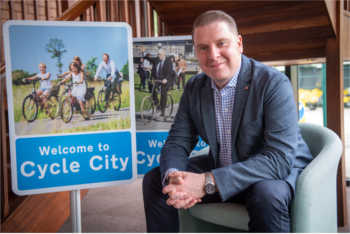 Mr Bullerwell has spent 23 years in the highways sector. Few people know, or care, as much about our family as he does. He does not take up a new job lightly. In the case of his latest appointment at Rennicks this was especially true as he confides this may well be the last in his career.
He told Highways that one of the reasons for his move from Amey was to have as much of a personal impact as possible, not just on the company but on the sector as a whole, something that is not always possible in the largest companies.
'Rennicks is known for reflective work, especially in signage. Rennicks was the first outside 3M to bring reflective signage to UK and that has always been part of the backbone of the company. It remains a key part of our work but at the same time we want to invest in supplying technology that is on the world market, so as to be part of the sector's evolution not revolution,' he tells Highways.
'We have always been known for forward thinking. I have been brought in to look for new products. For me, if I spend all my time doing what Rennicks has always done then I have not made a difference. This is about being at the forefront of technology in the sector.'
The new direction and its potential impact is already being felt and was obvious at Traffex Seeing is Believing this year, where Rennicks launched three new products that it has exclusive UK distributor rights for.
Among them was the Rennicks Independent Smart Pole – a hybrid, eco-friendly solution designed to provide power for a variety of roadside equipment and fixtures.
The Smart Pole features a solar panel and wind turbine to generate clean electricity wherever it is situated, helping provide greater flexibility in off-grid locations and lowering carbon footprints.
'It is the only one of its type in the world as it's the first one to give you continuous power, as close as can be guaranteed. It was developed with Microsoft and Intel in mind. They had to have a continuous power source on their sites for security reasons so this pole was developed,' Mr Bullerwell said.
'It is multi-functional. You are only limited by your imagination. It can run anything off the pole – CCTV, ANPR, wi-fi – even a weather station. In terms of output, you could run a street light, three cameras, wi-fi and a weather station without much trouble.'
He also reveals that Rennicks is looking at powering gantry signs for its next generation evolution.
Mr Bullerwell's concern for the evolution of the sector is not just about looking forward but stopping us from moving backwards.
'There are undoubtedly non-compliant products on the network that are not up to specificfation and we do have a problem with cheap imports. What happens if a life is lost because of this? I have been working in the highways sector for over two decades so I want to be part of the debate that makes a difference.
'Specifications are there for a reason. To not be in compliance is dangerous and wastes public money. I get fed up that real companies, which work hard might get an unfair time because of this problem, which I feel is getting worse. We cannot have a race to the bottom.
'We are looking for a new sales director. To continuer to deliver our exciting plans we are looking to recruit a new sales director and I am looking for somebody who can demonstrate a proven track record, industry know-how is not essential but would be highly desirable.'