Matthias Jablonowski (pictured), global practice lead for roads at Nokia, discusses how intelligent roads can make the world a safer place.
Each year, roughly 1.3 million people die on the roads worldwide – an average of more than 3,000 deaths per day. Much has been written recently on the coming age of the autonomous car, but less discussed is the role intelligent highways will play in improving road safety.
Digital technologies are already making roads smarter will play a key role in achieving the 'vision zero' of no fatalities.
These smarter roads include wired and wireless communications, internet of things (IoT) sensors, cameras and advanced analytics using machine learning as well as artificial intelligence (AI), with data processed locally by multi-edge computing (MEC).
This 'roadside cloud' actually promises a sunnier forecast for the travelling public.
Intelligent transportation evolves
Some of the first steps toward this vision were taken decades ago with intelligent transportation systems (ITS).
These early systems included traffic detection, advanced traveller information systems (ATIS) and electronic toll collection.
Later, operators integrated these applications with more data and video and linked them to infrastructure monitoring, road safety and traffic management.
The early ITS systems laid the foundation for connected vehicle technology called co-operative ITS (C-ITS), which will use vehicle-to-everything communications (V2X).
Co-operative ITS will be used to better co-ordinate vehicles by using techniques such as emergency electronic brake lights and forward collision warning, which will be especially important as congestion increases.
These advanced traffic management systems (ATMS) are the next-generation of ITS technology and will communicate directly with cars and drivers by combining data from sensors, cameras and in-vehicle systems to optimally manage traffic flow, decrease congestion and reduce crashes.
The roadside cloud
To gather and process all of this data will require significant computing resources. This intense data processing and analytics could be handled by centrally located data centres, as in a typical cloud application, but it would be inefficient.
Many of the ATMS applications will be very time-sensitive — requiring split-second decisions and very low communication latencies. Transporting data across long distances to data centres introduces unacceptable delays in the process.
Furthermore, heavy data application, such as video, will require far more network capacity than is actually necessary and can be analyzed locally much less expensively.
The concept behind the roadside cloud is to use edge computing capabilities to host advanced traffic applications at the roadside, coupled with vehicle-to-everything (V2X) connectivity and roadside detection equipment.
It provides road operators, vehicles and drivers dramatically increased, real-time situational awareness. In turn, this can enhance the ability of drivers (and ultimately self-driving vehicles) to respond immediately to dangerous traffic situations and also help mitigate emerging traffic congestion.
Along with safety and congestion management, roadside clouds will also be used to deliver services to drivers and passengers. This includes in-vehicle information for drivers and 'infotainment' for passengers.
Multi-edge computing (MEC)
Edge computing gives operators a standard IT architecture that can host virtualised roadside equipment and ease on-boarding of new services throughout the lifetime of the communications infrastructure.
It will allow road operators to host multiple critical, and less-critical, roadside applications on the same hardware without interference.
These applications can include today's weather detection, traffic detection and traffic analytics applications, along with tomorrow's automated driving applications and in-car entertainment services.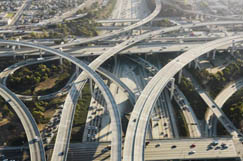 The advantage of roadside processing is especially obvious with video analytics. There is a pilot project in Belgium for example that uses video and audio analytics at roadside service stations to improve safety, especially for truck drivers. Because more than 95% of the video surveillance footage captures normal activities, the analytics program is trained to look specifically for anomalies, such as the sound of breaking glass or intruders climbing over fences.
Central authorities are only alerted when an anomaly occurs. Leveraging this roadside processing, less than 5% of the captured video needs to be transported to central operations. This illustrates the efficiency of a roadside cloud.
Essentially, they should act as a kind of neutral enabling platform for the development of new applications. It should integrate with both wired and wireless technologies and be open and standards-based. This openness ensures flexibility and the ability of highway operators and authorities to adapt to new applications and standards as they develop.
This platform approach is in sharp contrast to the historical approach around ITS, where purpose-built devices were deployed along the highway to deliver specific services.
With the roadside cloud, all the controller functions for assets such as variable message signs (VMS) for instance, can be handled by local and shared computing resources.
This separation of computing resources from signs, signals, cameras and IoT sensors, reduces the cost of these components and simplifies installation, maintenance and operations.
Crews will only need to plug in sensors, VMS, cameras and other devices into the roadside network, which would connect them with the local cloud. Auto-discovery will also enable the cloud to identify them, and from that point on the setup, configuration, updates and other operational activities can be handled remotely.
Big data and analytics
The other advantage of the roadside cloud is the inclusion of big data and analytics-related capabilities such as machine learning and AI. These capabilities can also be shared by multiple applications, along with shared data, which will make it possible for analytics to discover correlations between what would otherwise be siloed applications and isolated data lakes.
These data analytics capabilities can also be leveraged beyond traffic-related activities to include monitoring of assets such as lighting, signage, bridges and tunnels. The analytics platform can be leveraged to include asset maintenance, which uses the power of machine learning for predictive maintenance applications, which provide better scheduling and improve the safety of roadways.
5G and the roadside cloud
The good news is that 5G communications systems along with Cellular-V2X (C-V2X) will be rolled out over the next five years and include multi-edge cloud (MEC) capabilities that can be leveraged for roadside clouds. Even today's 4.9G/LTE cellular systems can be aligned with MEC capabilities.
For highway operators this means that the wireless communication capabilities needed for V2X communications can be tightly integrated with the cloud computing, software analytics and big data platforms.
Based purely on virtual resources, the combined communications, computing and analytics will provide a highly elastic, dynamic and scalable platform that's able to meet the needs of modern roadways with their traffic fluctuations, shifting weather, accidents and other incidents.
Roadside cloud is a relatively new idea for highway operators, and the industry is facing a decade or two of exciting and unpredictable changes as it embraces digital transformation.
While it is difficult to predict exactly what impact emerging technologies such as automated driving will have, what is certain is that wireless communications, analytics and IoT will be key enabling technologies — and roadside clouds will provide the agility processing platform that operators need to meet whatever comes their way.