Working to an agile and rapid delivery model, a team of clients, contractors and a service provider have developed a way of taking the stress out of local roadworks for drivers and workers alike. Dominic Browne finds out how the solution was just passing them by.
In Essex and Hertfordshire, contractors Ringway Jacobs, Ringway and software platform provider Elgin have developed a strategy using real-time information sent straight to Sat Navs to ensure drivers are automatically routed around roadworks.
The system helps traffic flow and journey time reliability from the outset by diverting the driver but also removes the conflict point between driver and worker at works sites.
Highways has previously reported on the appalling level of abuse workers receive, often at roadworks, and Highways Term Maintenance Association's campaign to tackle this. Will Young, innovation and efficiency manager for Essex Highways, who works on co-ordinating the relationship between Ringway Jacobs, Essex Highways and Elgin, is hopeful it will help reduce tension, adding that the scheme in general has helped the team focus to an even greater extent on the driving public and the impact their work has on people's lives.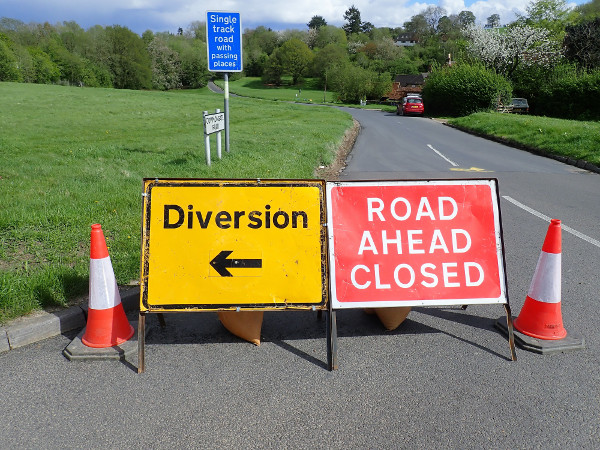 The system
Ringway and Ringway Jacobs were already moving to a paperless system, with teams on the ground armed with tablets to carry out risk assessments. Road closures and diversions are also digitally mapped. To take this to the next level, they teamed up with Elgin, which has an existing relationship with Google and TomTom. Elgin's roadworks.org website, which as many readers will know is a subscription-based service where highway authorities can pay an annual fee to have all their roadworks data published, acting as a repository of highway authorities' street and road works regulatory information and mandatory publishing requirements.
The platform has an API for communicating road closures to Sat Navs in general but this new system goes over and above that with a real-time feed providing live authoritative data. Google and TomTom are currently using the real-time data and Elgin is in discussions with other service providers.
One prompt for the system was the move by Essex and Hertfordshire to a permit system for roadworks in the last few years, which led to 'a far higher level' of quality information. However as Ringway's Daniel Anderton, who manages the Hertfordshire Transport Control Centre, explains: 'The permit information is static. It's planned information. The timescales that regulate that process have a built-in up to 24 hours lag – in some cases potentially a number of days lag before we have to tell people we are starting a road closure.
'This solution allows us to push a button and then information gets pushed out to people, whereas previously the Sat Nav had the information but had no real confirmation it was actually happening.'
Using cloud-based software, Elgin set up the app for Essex and Herts teams, on the ground or in the office, to select a road closure and potential diversion then 'syndicate' it live to Google and TomTom in real-time.
Mr Anderton says: 'If you talk to anyone not involved in our industry they expect this. The common misconception is that Sat Navs already get road closure information anyway. Crucially, when you talk to Sat Nav companies they don't trust half the information they get because they know it is not real-time. They rely on Waze and other crowdsourced information.
'No one else in the UK has a trusted relationship to feed information to Google and TomTom. This way we don't get associated with unnecessary delays. The Sat Nav takes people around them. We should be encouraging everyone to make this available because there is a fundamental need.
'Sat Nav companies said find us someone who can give us real-time information when roads are closed and we will bite your hand off, and they also gave us a nudge to scale up across Essex and Herts.'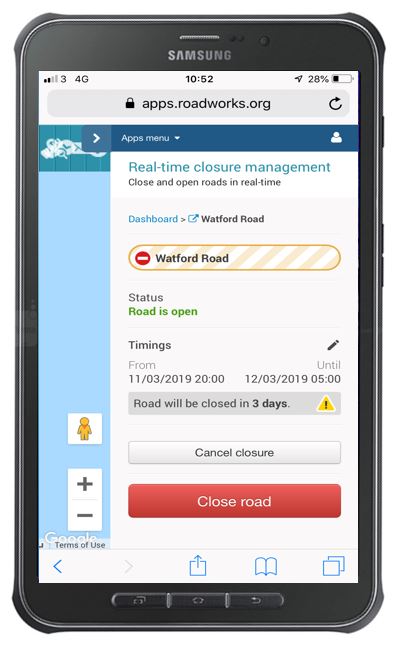 Elgin conducted research and says there is a widespread demand for authoritative, real-time information on road closures.
Once a scheme promoter has put in the closure and agreed what the diversion is, the tool allows Essex and Herts to plot and publish the shortest, most appropriate route around the closure. The highways teams would promote a route 'that is equivalent to what we are shutting' – for example A roads in place of A roads.
Rachael Walsh, national account manager for Elgin, says: 'We are looking to move into the arena of influencing driver behaviour by passing the highway authority's official diversion routes to Sat Nav companies but for the time being each Sat Nav will determine its own detour irrespective of the authority's preference.'
The road ahead
The team began testing the system in late 2017 and went live in March 2018. The externalities and added value should be extensive considering all the time potentially saved. The team is currently working on 'putting some pounds and pence to the savings'.
'We are working on some formulas that the likes of Highways England will use to come up with that cash saving of congestion per vehicle per minute. That's a work in progress,' says Mr Anderton.
It also allows better monitoring of the impact of works. The Elgin app harvests all the permitting information that Essex and Herts have and correlates that with live Tom Tom traffic data to show severe and unusual congestion related to the roadworks.
The data from TomTom gives a comparison of current speed with average speed for the time of day based on a traffic profile for the last two years.
'That's the beauty of the live TomTom traffic data in the app itself,' says Ms Walsh. Mr Anderton says: 'This has certainly allowed us to scrutinize the information we exchange and given us an appreciation of the impact we cause. We are learning from closing the same roads and capturing information that tells us last time we shut this we had problems at junction X. You don't often get the chance to learn from something. Now we can put in interventions to alleviate the other problems. Did the diversion cause an impact? Do you have to amend traffic signal timings to get easier flow around the diversion?
'It tells you within minutes what the delay is. The interesting thing is you put a closure on and you start to see traffic over somewhere you didn't expect. People know other routes and you get a much better picture of what is happening on the network.'
Currently the highway authorities are only using it for their works but utilities can also use it. Herts and Essex are looking at a utilities trial in due course but 90% of roads closures are done by the highway authority or its contractors. Between them Herts and Essex probably rack up about 5,000 closures a year.
Mr Young adds that new forms of analytics and modelling could be in the works and looks ahead eagerly to a time when this could be a key component of autonomous car data. However, the team wants to celebrate their first achievements first; a simple but sophisticated solution, developed at speed with numerous partners, with a clear customer and societal benefit.
From a corporate point of view, this project demonstrates a desire to have more than just a traditonal contractor role and instead be a service provider capable of identifying issues and finding solutions. In today's market that is a major advantage, much like being able to spot congestion and avoid it really.