The Scottish Roads Training Programme is set to be launched on 29 January with the ambition of re-engineering how road operatives are qualified and how training programmes are procured.
At least 15 of Scotland's 33 roads authorities (including Transport Scotland) are expected to sign up to the programme, which will co-ordinate road worker training across the devolved nation.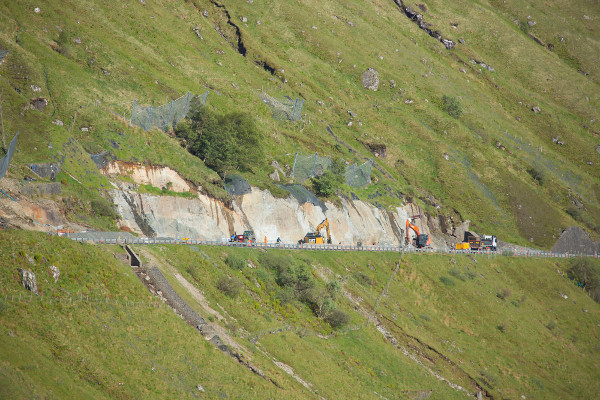 Works at Rest and Be Thankfull, Argyle, Scotland
The system will use intelligent management systems to simplify and improve the efficiency of the delivery of local training and also develop relevant Scottish qualifications.
Councils will be able to use the programme as a single booking system for all training providers whether through an external procurement route or in-house.
This means roads authorities can collaborate on joint external procurement or share resources for in-house training to maximise efficiency.
It also is designed to provide a register of road workers' existing and future training needs, with alerts to let people know when a worker is about to trigger their training needs.
The launch event is taking place at East Ayrshire Council, which is providing the project with senior officer support as it gets off the ground. The council's training database is also being used as a template that will be expanded for the national programme.
Angus Bodie, programme manager for the Scottish Roads Collaboration Programme, said: 'We hope to have a dedicated resource appointed by March with two administration staff in place and the training database up and running by April. The cost is around £60,000 so it's not a massive outlay.
'It will also provide a common library toolbox of training talks. I think it is a whole different approach to training people and to a much better level.'
Scottish Roads Training Programme:
dedicated national resource
well-managed register of road workers individual training achievements and needs
joint procurement and delivery of quality local training
training co-ordinated through a booking system
measurable efficiencies by reducing training costs
improved certainty of future training budget requirements
improved forward planning of training needs
consistent core training for every Scottish road worker
training card