Past ADEPT president and HMEP advocate Steve Kent discusses life after the efficiency programme and how treatments and technical solutions, together with the power of data, are still driving progress.
'Prevention and a Better Cure' – that was the title of the report which followed the Government's 2011 Pothole Review and led to the development of Highway Maintenance Efficiency Programme (HMEP).
Driven primarily by the need to help deliver greater efficiency in local highway maintenance, HMEP expanded the initial pothole brief to cover the broad headings of asset management, collaboration, procurement and benchmarking.
A lot of water has flowed under the bridge since HMEP folded as a central government-funded body and the work of driving efficiency was passed over to the wider highway maintenance sector, with many expressing concern about whether this approach would work.
Well, here's some good news - anyone attending the June/July series of workshops organized by Gaist, ASI and the Road Surface Treatments Association (RSTA) would have been reassured to find out that the spirit of HMEP is alive and well, and the sector is continuing to push back the frontiers of innovation in highway maintenance.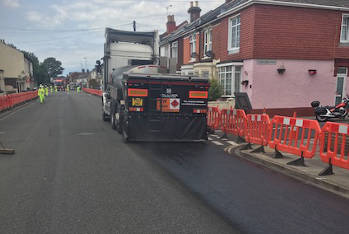 Entitled 'Preservation is sustainability – Let's fix good roads', the workshops demonstrated that the local highways sector has taken up the efficiency baton and is not only running with it but also adding innovation and new thinking as it goes.
It was clear from the presentations by Gaist, ASI and RSTA, as well as delegate inputs during the interactive sessions, that asset management and lifecycle planning are central to everyone's approach these days and that developments in technology and data capture and management are enabling huge strides to be made in our understanding of the condition of the network, how it performs and what is needed to target available resources wisely.
The Department for Transport's (DfT) key player, Steve Berry OBE, supported the work being undertaken and made it clear that the DfT welcomes the alternatives to previously tried and tested methods and materials that this innovative thinking is producing, suggesting that the focus is now much more on achieving good outcomes than following prescribed methodologies.
Gaist's Marc Tite and Christina Liassides gave thought provoking presentations on, respectively, lifecycle planning and the power of good data, demonstrating that good decision making and optimal investment planning is underpinned by consistent and relevant data. Developments in data capture and presentation are enabling asset managers to be much more accurate in understanding asset condition and predicting performance.
The RSTA's Mike Harper built on the Gaist work to briefly outline the range of surface treatments available to today's highway engineer; enabling products and treatments to be accurately matched to network needs.
Aligned with good understanding of road condition, the selection of the most appropriate treatment should ensure that investment is optimised and network performance maximised.
Howard Robinson, formerly chief executive of the RSTA, but appearing here in his new role as managing director of ASI, presented delegates with a further extension of the initial HMEP 'Prevention is better than cure' theme, focusing on 'Protection' and outlining the benefits of keeping good roads in good condition.
In current asset management thinking, most interventions take place in response to the early visible signs of deterioration in the surface condition, e.g. cracking.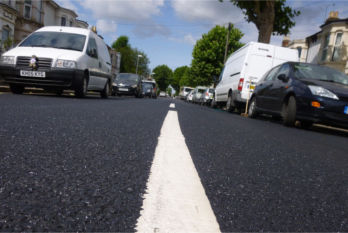 The approach promoted by ASI is to apply a protective treatment to the asphalt surface course before reactive maintenance is anticipated (see picture above for apllication and to the right for finished product) typically after 7-8 years life, sealing the invisible micro cracks that will have formed in the upper part of the surface, thus preventing further moisture ingress and significantly retarding deterioration.
This approach, which can be repeated several times, typically at five-year intervals, will significantly delay the time at which more significant interventions have to be made.
Current asset management thinking has taken us away from a 'treat the worst first' approach and most network investment strategies will involve a proportion of spending being directed towards the 'amber' elements of the network. The 'Protection' approach extends this thinking and demonstrates the value of diverting a proportion of overall spending onto the 'green' network, thus delaying the transition from green to amber and bringing another dimension to the overall preventative maintenance approach.
The concept is not new, and ASI have 20+ years' experience of applying preservation to high and low speed roads in the UK and internationally. Several highway authorities have already benefited from reduced maintenance costs, longer life pavements and increased public perception.
Steve Kent is also a non-executive director of ASI and works as an independent consultant.
Case Study 1 – London Borough of Merton
Aberconway Road is a busy section of urban carriageway that had been resurfaced with SMA in 2001. The site was chosen as an example of SMA surfacing which at the time was relatively new and it was decided to trial the use of a preservative to ascertain the benefits of this form of preventative maintenance. In 2002, 18 months after installation, a large section of the site was treated with RHiNOPHALT preservative. For control and comparison purposes a section of the site was left untreated. In 2009 part of the treated section was given a second application. All 3 sections are regularly inspected, and cores were collected to enable binder properties of the underlying SMA to be determined.
After eight years, in 2009, the untreated section was showing signs of distress, with hairline cracking and initial aggregate loss apparent. This section was ultimately replaced in 2011. The once treated section was still in good condition in 2015, albeit with some minor hairline cracking, some 13 years after treatment with preservative. At the same time, in 2015, the treated twice section remained in good condition, showing no signs of deterioration.
A suitable proxy measure for the condition of the underlying SMA surfacing is its Recovered Penetration value (Pen), which reflects the degree to which the material has aged due to oxidation. For a 40/60 Pen bitumen this could be expected to progressively fall from an initial value of 30-37 Pen post initial mixing / laying. The figures in the table below show the results from tests taken over the life of the trial section.
Case Study 2– Portsmouth City Council
In 2018 three sites were selected for RHiNOPHALT preservation, on SMA surfaces that were considered to be approaching 'end of life' at 10-11 years old. All sites were in built up urban areas with on street parking, limiting surface treatments choice due to the need to avoid secondary compaction and repeat site visits. RHiNOPHALT was chosen to preserve the surface in its present condition and further extend service life. Each site was approximately 3,500 m2 and took one hour to treat. No ironwork / kerb adjustments were required and road markings were replaced within the same shift, two sites having been treated during the day and the third overnight.
Case Study 3 – A50 Trunk Road
Connect Roads manages 57km of the A50 trunk road from Stoke to Derby under a PFI arrangement. ASI's RHiNOPHALT was applied to a section of the route in 2008 on to SMA that had been initially laid in 1998 and was showing visible signs of wear and tear. Following a series of harsh winters, further inspection in 2011 showed that although the treated section had deteriorated to some extent its condition was favourable when compared with untreated sections.
As a consequence of this, a further treatment was applied between 2012 and 2014, followed by a third treatment in 2018. The SMA surfacing is now in its 21st year of operation.