I've been aware of LCRIG since its formation in 2013 and have always quietly tracked its progress as it grew from those humble beginnings in Blackpool with just a handful of members to what it has become today.
With more than 60 local highway authority members and an impressive 57 private sector associate membership, it has become an organisation that is well recognised and respected by government departments and officials.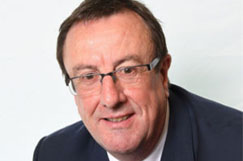 In fairness a large part of its success has been due to the tireless efforts of Will Britain who many of us will have seen over the years 'treading the boards' at various conferences extolling the benefits of councils working together.
In order to help facilitate the next steps for LCRIG the Board asked me to join as CEO just about a month ago and of course, I was delighted to accept. After all, I thought 'now all the hard work has been done…' Not unexpectedly I was sadly wrong.
In truth, since taking on the role of CEO, my feet haven't touched the ground and I'm really pleased to say that's because I've been inundated with calls, emails and LinkedIn messages wishing me the best of luck in the new role but also wanting to find out more about LCRIG and what our future plans are.
So this seems like the ideal opportunity to share those plans beyond the LCRIG membership.
In addition to the things you'd expect, like undertaking a review of the terms of reference and providing some challenge to the existing business plan I am also exploring the benefits of establishing a Community Interest Company (CIC) to provide a little more rigour around LCRIG governance and operations.
If we create such a structure it will allow LCRIG to operate along the lines of any other limited company, being able to procure goods and services, lease offices and apply for government funding.
Having an appropriate legal structure in place such as a CIC will provide LCRIG with significant freedom to identify and adapt to circumstances, potentially being able to take advantage of opportunities in a way that would otherwise not be possible.
In order to create a CIC, we need to demonstrate that we are here to serve a social purpose rather than making a profit and that LCRIG has been formed in the community or wider public interest. This shouldn't be too hard following on from the hard work already done by the team that has helped to position LCRIG at the centre of sharing good practice, skills, experience and knowledge across our highways community.
While a CIC is not complicated, it can be quite complex simply due to the number of mandatory elements and how they cross-relate. So what I've learnt is that it is important to work alongside a knowledgeable and pragmatic lawyer when making such governance changes and having Anthony Collins Solicitors on board to provide that steer has been fundamental. What they have managed to do is to suppress the engineer in me by stopping me from taking the parts straight out of the box and building the model without reading the instructions!
So, hopefully within the next few weeks we will have formed the Local Council Roads Innovation Group CIC – still known in short as LCRIG.
In these first few weeks I've also been lucky enough to speak directly with some local authority members and associate members consisting of contractors and material providers. These discussions have been enlightening and largely focused on an emerging framework for small pavement works that will be freely available to all LCRIG members.
The initial level of interest by 'smaller' companies has exceeded expectations and I'm excited by the fact that not only will members be able to use the appointed suppliers but the contract documents are being made available to other members so they can replicate the model in their own regions.
In doing so, this would provide LCRIG with the opportunity to create something of a nationwide community of innovative companies that all members could tap in to.
As each subsequent framework would be procured at different times this would have the effect of continually refreshing the innovation pool meaning no client would need to wait for four years for the term of a single framework to expire before being able to access new innovative suppliers.
Local highway authorities are very focused on innovation and sharing best practice across the highways sector and this is something at the core of LCRIG. Through these early discussions it was evident that information being shared at present was often nothing more than anecdotal in the form of case studies making claims about a product or technique but without any technical evidence to support the claims.
Its for this reason that clients will only trial products or techniques in their own authority despite it having been in use for a number of years elsewhere in the UK.
This of course is very frustrating for the suppliers resulting in unnecessary costs and a slower take up of innovation than would otherwise be the case.
To some extent this bears out my view offered up in an earlier article in Highways on the subject of innovation where I concluded that the pace of change in our sector wasn't something for us to be proud of.
Therefore, perhaps we ought to push the concept of each LCRIG member sharing a one-pager, say twice per year, consisting of content that described just one of their latest innovations complete with technical evidence of performance such as the data from a core or SCRIM results.
Its initiatives of this nature I'd like to push forward in LCRIG to strengthen our position as the 'go to' organisation for innovation within the sector.
In addition I'm making sure that I take on board a wider view so I've managed to touch base with CECA and MHA+ to explore synergies, avoid duplication and spread the LCRIG message. Next stop, DfT.
Finally, I'm confident that LCRIG can achieve much more than it has already, not because of my input, but because of the enthusiastic team that I work with, for whom nothing is too much trouble.