While I'm pretty sure we are all fed up about listening to the continuous news about the effects of this damn virus I'm afraid we are only in chapter one of the story so there is still much more to unfold.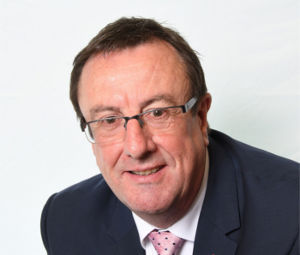 Every client and every provider in highways maintenance has been profoundly affected by the rules and conditions placed on social distancing leaving a number of clients asking 'how do we manage this'.
Should we change working patterns? What does a COVID secure workspace look like? Should we do our own thing or follow others? This all comes at a time when some private sector organisations are simply wondering if they will survive this crisis because of the financial difficulties it is creating.
It is apparent that the impact of COVID-19 is particularly acute in the highway maintenance sector where working from home is often simply not an option – hence the key worker status. Despite this, we know that some members of the public have expressed concerns about seeing our dedicated maintenance gangs working outside particularly when this is near their homes. That said, never has there been a better time to undertake works on the highway due to the significant reduction in vehicular and pedestrian traffic so how do we make the most of this opportunity?
What we do know is that the phrase 'return to normal' is misleading and unrealistic for every one of us. The new norm will look very different from the old.
While the furlough scheme has been very welcome it is clear that this will come to an end relatively soon and organisations will feel the need to reassess how they will go about business in the future from on-site operations to traditional office-based activities. There is no doubt, this will not be like it was before.
So, as lockdown eases we are starting to witness some necessary change.
Our designers are already having to become even more imaginative as they design schemes of a temporary nature that are quick to construct and deconstruct in order to deal with the immediate needs of better facilities for pedestrians and cyclist, while leaving the door open to other alternatives as we learn more about how we can accommodate the safe movement of people and goods in the medium term.
Agility is the key
The article published only a few days ago written by our very own Editor Dominic Browne provides a greater degree of guidance regarding the next steps but nothing is mandated. It is being left to individual clients to make their own assessments and use the guidance produced by the Highway Sector Council wisely. What is clear is that wherever possible they would like to see programmes of work accelerated.
So right now our collective industry needs to demonstrate a level of agility and collaboration the likes of which I have only ever witnessed once in my career, which was for the infrastructure provision for the London Olympics 2012. How we managed to deliver some aspects of the required infrastructure within the timescales was an incredible example of how innovative we can be when faced with a challenge of significant proportion.
While I recognise we can't all just simply go back to work, our economy is creaking so we must do all we can to get the wheels turning once more.
In both public and private sector organisations this pandemic is having different effects. Some are claiming never to have been so busy while others still have significant numbers on furlough. Some clients are pushing at the boundary to award new tenders and some are being somewhat slower to react.
Perhaps one of the best examples of agility I've come across recently is what Blackpool Council have been planning over the past few months.
They had the foresight to make plans at the very start of this pandemic to put things in place that would protect their local supply chains and in particular the SME community who are so important to the UK economy.
They realised that many of the SME's who had been so loyal to UK over the years would risk going out of business if all the work suddenly dried up. While this didn't mean issuing works orders at a point when so much was unknown about how we could protect ourselves from the virus, they did design a procurement that would give SME's a degree of confidence about the medium and long term opportunities that would be available through the council.
The innovative procurement is focused on small improvement works that anticipate appointing a number of contractors for a four-year term based on a 100% weighted quality assessment – a brave step for any public body. This timely action will undoubtedly be the difference for a number of SME's between keeping their businesses going and winding things up.
Under the framework, Blackpool will have the option of making a direct award to a single contractor, providing the cost is acceptable and built up in accordance with their tender, or seek prices from a number of the contractors via a mini competition.
It is important to understand that this is not just another framework. It is in fact providing an opportunity to those companies that might otherwise struggle to get on council tender lists or Tier 1 provider supply chains.
Blackpool aims to become an 'incubator' for novel techniques and inventions that might otherwise be overlooked. This will benefit the whole industry as well as stimulating the local economy and getting cash directly to the front line. This approach requires vision and a real leap of faith by the council as it is actively seeking out and trialling innovation.
The council, as a key member of the Local Councils Roads Innovation Group (LCRIG), is pushing this concept even further.
Firstly, they are making the framework available to all LCRIG member authorities (over 50 in number) and secondly, they are willing to 'gift' the procurement documents to the same group so they can engage their own local supply chains using the same mechanism.
There has already been a great deal of interest so if other councils do adopt this approach and procure similar frameworks it could potentially create a whole new delivery community focused on delivering innovative approaches to highways maintenance that are faster, cheaper and better.