No one outside our sector would notice of course, but it is a fitting coincidence that as we reach the 10-year anniversary of the stock market crash we also reach at roughly the same time the deadline for the implementation of the new code of practice and its risk-based approach.
While this may be a huge change to our world, it is one of the more minor shake-ups the financial earthquake caused.
The new code of practice, Well-managed Highway Infrastructure, was published on 28 October 2016. It could be either be adopted straight away or within two years of its publication – the end of October 2018.
It is possible the sector would have been given updated guidance anyway, but the exact guidance it received was clearly influenced by the fact of austerity and its impact on councils.
Steve Berry, head of highways maintenance at the Department for Transport (DfT), said as much when speaking at the 'Strictly Highways' conference in Blackpool in September, where he argued that the previous standards under the old code effectively 'gold plated' highways maintenance.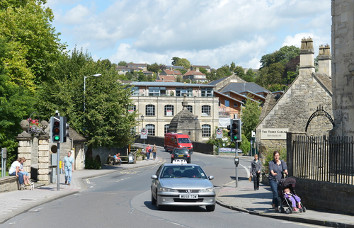 It is another even sadder coincidence that so many authorities are falling effectively into bankruptcy just as a new code that cites 'affordability' is coming to pass.
The document states: 'The intention of this code is that authorities will develop their own levels of service and the code therefore provides guidance for authorities to consider when developing their approach in accordance with local needs, priorities and affordability.'
More specifically, and the most momentous change of all, the code removed standards for maintenance intervention and recommends: 'A risk-based approach should be adopted for all aspects of highway infrastructure maintenance, including setting levels of service, inspections, responses, resilience, priorities and programmes.'
Citing affordability as a defence, despite its being specifically mentioned in the new code, would perhaps be the biggest risk of all.
The key reason for this is another major influence on the code – the infamous case of Wilkinson v City of York Council.
In this case, the Court of Appeal held that money is not a relevant consideration in defending a claim.
This judgement was upheld again in the case of Crawley v Barnsley Metropolitan Borough Council [2017]. In the Appeal Court, all three judges agreed that a lack of resources is not a defence, following Wilkinson v City of York.
Despite this, Transport for London (TfL), perhaps emboldened by the new code, approved a business plan in December 2017 running to 2022/23, which stated: 'Given the end to Government funding of the [TfL] road network, this will mean a slight dip in asset condition from current levels. Activities will be prioritised using a risk-based approach so we get the best results for our investment.'
Well-managed Highway Infrastructure is not a statutory document but is often taken by courts as a benchmark for how highway authorities fulfil their statutory duty.
In linking funding levels to its risk-based approach priorities, TfL could have set itself up for a potential test case to establish whether the Wilkinson judgement might be overturned following the new code. This body, while not without its own financial turmoil, may be the best one to take on this fight.
Legal analysis
'At the moment, affordability does not offer a defence under Section 58 of the Highways Act 1980 and while it is mentioned in the new code of practice, councils will have to be very clever about how they justify using affordability,' says Steven Conway of Keystone Law.
'I think case law will have to change. The courts will have to look at this and appreciate that we are in a time of austerity and there is not enough money to go around – and they will have to move with the times.
'At the moment the Court of Appeal has said that a Section 58 defence is not available to a highway authority that has allocated its resources to more pressing needs, rather than doing what was reasonably required to make the road safe.
'For there to be a change it is probably going to be a matter for the Supreme Court.
'It may say this is a matter for Parliament because of the wording of the Section 58 defence, but I hope it moves with the times and we see an appreciation of highway authorities trying to comply with their statutory duties with more limited resources, and the courts are prepared to accept that affordability is a factor which ought to be taken in to account.'
When Mr Conway first got involved with this issue, he spoke to the UK Roads Liaison Group (UKRLG) in 2011. 'My rationale was that many of my highway authority clients were struggling to comply with their statutory duties as they were losing their highways inspectors due to austerity and I thought change was needed.
'My thoughts were that the code could be amended to lessen the financial impact of compliance and reduce the financial burden upon highways authorities. 'The UKRLG said it would look into the matter and this was the plan it opted for. The easiest thing may have been for DfT to sponsor an amendment to the Highways Act, but that would probably have been contentious.
'Under the new code, challenging an inspector's professional opinion as to whether a defect is dangerous, based on their assessment made using a risk-based approach is going to be a difficult. However, as the burden of proof to establish a Section 58 defence lies with the highway authority, it will be for it to show that the inspector's opinion falls within the range of opinion of a responsible body of similar professionals.
'If it is able to do this by, for example, showing that it has collaborated with other similar authorities and implemented a regime that shares a similar methodology to risk assessment then I think that will be a high hurdle to overcome.'
Mr Conway adds that the judgements of inspectors are going to be very hard to criticise. 'For authorities who have done this properly and carried out a review of all their processes and put it through a risk-based approach, it should be very difficult to challenge.'
While highways authorities are supposed to have implemented their new policies in line with the code by October 2018, it must be remembered that the code is only a guide to best practice. Mr Conway says: 'It does not have the force of law and we aren't going to find that as of 1 November the courts are suddenly finding against highway authorities who have not yet implemented a new highways policy based on the risk-based approach.
'The new code is not a new law. If you have not brought in a new approach in line with the code, but you are still identifying actionable defects and maintaining the highway. I don't think it will be the end of the world.
'Many councils already have very high repudiation rates for highways claims and I expect them to increase under the new code.
'There will be a transition period while everyone gets used to dealing with claims under the new regime. The law has not changed but I hope it will evolve and I am sure we will all evolve with it.'
Insurance analysis
According to Gregory Jones, claims service manager at Zurich, solicitors may start to request more information than they do at present. 'The new code may result in a significant increase in the volume of documentation required to defend a claim even in pre-litigation and we can expect more pre-action disclosure applications.
Disclosure requirements under the new code could include:
Published highways policy
Risk assessments
Road categorisation decisions
Accident statistics
Road surveying data
Evidence of decision-making
Inspectors training records
Call centre audio – defect reporting line history
Contractors' documentation
A summary of issues regarding evidence needed:
The importance of information management and record keeping cannot be overstated in the new era.
Claimant mantra 'if you have no evidence then it didn't happen'
It will be about justifying decisions taken under the new code
Records are essential to demonstrate why decisions were taken and the reasonableness of those decisions as well as their implementation
Court decisions will inevitably provide guidance in terms of what is deemed reasonable/acceptable and what is not – some uncertainty has to be expected in the meantime
Gaps and shortcuts
The ALARM survey, published in March, found that around 65% of respondents 'use the guideline depth of 40mm to define a pothole, with this definition largely unaffected by the introduction of the new Well-managed Highway Infrastructure code'.
Mr Jones says: 'I am getting nervous about authorities keeping the same standards. I don't think that is what is meant. You have to look in a bit more detail.'
This type of shortcut was also highlighted by Mr Berry, who said: 'Some of the London Technical Advisers Group [LoTAG] councils admitted they would not be ready for the risk-based approach. When you start to ask what the resilient network is, the London authorities said – it's the gritting network. That is not what we want. That is not the full understanding of a resilient network.'
He went on to say that some councils told him they were not good at writing the plan as policy. 'What we have seen is a number of the authorities are not ready. And one of the concerns we have from our side is regarding data.'
The chair of LoTAG, Satbir Gill, says he remains positive London councils will comply.
Steve Birdsall, chief executive officer of technology and technical services company Gaist, said: 'Catching data and the correct data is pretty much key to anything around asset management, particularly with the risk-based approach. From my perspective, when we look at whole lifecycle asset management, one of the first ingredients is condition data.
'Unless you know what you have and what state it is in, you have your hands tied behind your back before you start. We need to understand materials, their lifecycle, treatment options and historical records.'
The other key issue is training, especially for highway inspectors. Clive Hall, head of highways and community services at Herefordshire CC and a key figure in the Midland Service Improvement Group, says training for inspectors is vital, pointing to the fact that their role is changing from basic defect assessment to complex risk-assessment.
Mr Jones agrees, stating: 'This could be a long process. Getting people on the ground to change the way they are looking at things is not going to happen by the October deadline.
'We did an experiment and sent three different inspectors each down the same roads and we had three different results.'
Howard Robinson, chief executive of the Road Surface Treatments Association, says: 'The code assumes authorities have the required competencies in place to be able to make informed risk-based decisions.
'Some authorities may need help in developing their road hierarchies and setting investigatory levels (IL) for skidding resistance across their networks.
'RSTA, in partnership with XAIS Asset Management, is running a series of seminar workshops starting this autumn to help those authorities who feel they need guidance on skidding resistance and setting IL values.
'We have seen cases in the press recently where cyclists have been killed after hitting a pothole which the authority has known about for some time and not repaired, so it would seem there is a need for further checks and balances to be put in place to ensure risk is being properly managed.'
Are we ready?
Mr Robinson and Richard Hayes, chief executive of the Institute of Highway Engineers, both agreed that the word in the sector suggests only around a third of councils are truly ready.
Mr Robinson adds: 'Many authorities still need to develop new road hierarchies for their network, which is a key cornerstone of the code.'
The DfT declined to answer any questions on preparedness and whether it was monitoring implementation. It is holding workshops in September to help ensure that authorities are in a good position to adopt the new approach. Authorities can sign up through the UKRLG website.
The DfT also adds that it is the responsibility of each authority to ensure they have produced plans and policies and evidence of their maintenance service and regime as part of the risk-based approach. This will be key to any defence used in a court of law.
Evidence from a UKRLG survey published to stakeholders in the spring was not all positive, according to the minutes of a UKRLG meeting published in April.
These record Mr Berry revealing that the legal and insurance sectors have raised concerns about implementation. Additionally, the engagement with neighbouring authorities was not as good as expected.
Graham Pendlebury, director of local transport at the DfT, 'highlighted some concerns in both how to apply the principles set out in the code' and that the rationale behind the new code 'might not be fully understood'. He added that 'he did feel the need for an extra push on the code'.
One thing we definitely know is that the winter service guidance will not even be released in time (see p58). However, the National Winter Service Research Group (NWSRG) has sought to calm fears reminding the sector that the previous Appendix H guidance is still a good platform for policy.
Mr Hayes concludes: 'The courts will ultimately decide what is reasonable to consider and may well compare any case with other authorities' standards, whether comparable or not.
'The test case will set the agenda. Ultimately, my message to local authorities is don't be the first in court.'