The A9 Dualling project is one of Scotland's largest ever transport infrastructure programmes. At a cost of some £3bn, the 11-stage scheme aims to upgrade 80 miles of single carriageway between Perth and Inverness. Dominic Browne speaks to project manager for A9 dualling, Jo Blewett, to find out the facts behind this massive scheme.
When is work on each section due to begin and end?
The Scottish Government is committed to dualling the A9 between Perth and Inverness by 2025. Road users are benefiting from the new dualled stretch between Kincraig and Dalraddy (pictured) which opened last year. Advance works are already underway on the section to be dualled between Luncarty and Pass of Birnam with the main construction works expected to start in the coming months.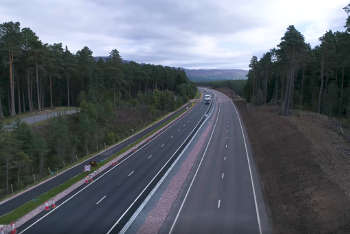 Design work on the remaining nine dualling schemes is well advanced with draft Orders now published for eight of them, meaning that we have published draft Orders for 95% of the dualling programme. The last remaining scheme, Pass of Birnam to Tay Crossing, is at an earlier stage of design and we hope to identify a preferred option for this section later this year.
We are progressing with the preparation of the delivery programme, the timing and order of which is dependent on when individual schemes complete the statutory process.
How did you choose what sections to work on when?
The first two sections to be progressed to the construction stage were Kincraig to Dalraddy and Luncarty to Pass of Birnam. These were progressed first, simply because they were at a more advanced stage in the design process than the other sections. Many of the remaining sections are being progressed simultaneously.
We are progressing with the preparation of the delivery programme, the timing and order of which is dependent on when individual schemes complete the statutory process. Considerations such as minimising traffic disruption and proximity to other dualling schemes will also be factors that are considered when deciding the order of construction.
What is the finance model behind the work?
Procurement options continue to be explored with consideration being given to scheme sizes, procurement and funding models. Ongoing consultation with the construction industry is helping to shape the procurement strategy.
Why did you choose separate procurement processes for each of the 11 sections rather than a framework?
The fact that two of the dualling schemes were more advanced in design meant that a separate procurement process using Transport Scotland's standard design and build form of contract was more appropriate. However going forward, the procurement process for the remaining sections is still under consideration.
What are the main challenges you have encountered so far?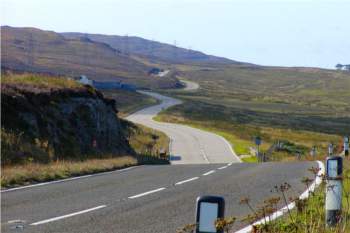 The A9 passes through areas that are breathtaking and hugely important in terms of wildlife and landscape - not to mention people's homes. We are dealing with internationally environmentally designated sites; rock cuttings; building new bridges and widening existing major bridges; public utilities; dealing with the close proximity of the Highland Mainline Railway; and there are currently over 100 junctions that must be incorporated to provide access to adjacent property and communities.
Some very complex and demanding challenges lie ahead but, given our track record on other major projects, we are confident of delivery on time and on budget.
What are some of the main lessons and achievements you have made so far?
The ambitious A9 Dualling programme is more than just building roads. We recently launched the Highland Discovery app, which has been developed to promote tourism along the A9, including the less visited rural heartlands, and will help tourists navigate the many visitor attractions and facilities in and around the A9 corridor.
We have also established an educational initiative known as "Academy9", a collaborative and evolving initiative, promoting STEM engagement within Scotland. The initiative brings together industry professionals, experienced educational professionals, to create truly unique experiences for school children of all ages and abilities. The programme also includes the goal of getting local pupils ready for local jobs, which the dualling programme will create.
Will the entire route be three star rating or above on the iRAP road safety model? If not why not and where will the gaps be?
The trunk road network in Scotland is not assessed in terms of the iRAP road safety model.
Are you expecting to encounter any areas of archaeology along the route – what have you found?
The main archaeological interest is the Killiecrankie battlefield. The existing road already runs through the battlefield site and the dualled route will impact further on this site. We therefore developed our dualling plans carefully taking into account available research and specialist advice, including consultation with Historic Environment Scotland (HES).
We carried out extensive surveys as part of early design work, but after receiving objections to the draft Orders, we agreed, in consultation with Historic Environment Scotland (HES) and Perth and Kinross Heritage Trust (PKHT), to bring forward additional survey work, comprising geophysical surveys, metal detecting and trial trenching. The next steps is to present the findings of the archaeological surveys to Historic Environment Scotland (HES) and the local community.
What protected species might you find along the route and how are you protecting their habitats or moving them?
The A9 from Perth to Inverness runs through a wide range of habitats important to Scotland's protected fauna and flora. Some of these habitats are protected at a European level by Special Protection Areas (SPAs) for hen harrier and golden eagle, and the River Tay and River Spey Special Areas of Conservation (SAC), are designated for protection of salmon, lamprey and otter, as well as for freshwater pearl mussel.
Other habitats are recognised as nationally important such as the Sites of Special Scientific Interest (SSSI) and ancient woodland. Examples of European and nationally protected fauna include: beaver, wildcat, bats, red squirrel, water vole, pine marten, badger, freshwater pearl mussel, great crested newt, raptors and a range of other bird species (including Capercaillie, Crossbill, Osprey and Redwing).
Measures to avoid or mitigate impacts include programming construction to avoid sensitive breeding or migration periods. Crossing points below the road such as underpasses, culverts and wildlife tunnels have been incorporated into the design to facilitate animal movement, while strategic fencing will be provided to prevent animals from accessing the carriageway and to direct them to safe crossing points.
Planted mitigation includes planting with native woodland, shrub, heath and grassland species, and Outline Habitat and Peat Management Plans and Species Protection.
Transport Scotland reported a benefit to cost ratio (BCR) calculation in line with appraisal guidance of 1.01, which includes the benefits of relieving driver frustration. The programme BCR excluding driver frustration is 0.78 and including Wider Economic Benefits is 1.12. The benefit cost ratio for the project appears quite low by most standards. Do you feel that this demonstrates limitations of BCR model? Why is it so important to complete this despite the low return?
The A9 Dualling Case for Investment was published in September 2016 and sets out the business case for dualling the A9, between Perth and Inverness, from a strategic and socio-economic perspective. The benefit to cost ratio of the programme is only part of the wider rationale for the investment in the A9 Dualling Programme.
This ambitious programme will bring many benefits for road users, communities and businesses who live along or use this vital route to the Highlands and Islands and is fundamental to delivering sustainable economic growth, supporting jobs and enabling businesses to grow. When completed the dualled route will reduce journey times, improve journey time reliability and improve road safety for all users.
Is Transport Scotland concerned about induced traffic demand on the route?
We don't have any concerns about increased traffic demand. Traffic flows are forecast to increase by between 2,500 and 4,600 AAWDT (Average Annual Weekday Traffic) following completion and the new dual carriageway will have sufficient capacity to accommodate this. In addition a corresponding reduction on traffic flows on other roads on the strategic road network is expected, with anywhere between 70-95% of the forecast traffic increase on the A9 a result of re-routing from the adjacent corridors i.e. existing trips already on the road network.
Are there any specified road materials for the dualling and if so what are they?
Transport Scotland's bespoke TS2010 surfacing, which is more durable than many thin wearing courses and allows more use of locally sourced aggregates, is specified.
Traffex Road Expo Scotland will be taking place on Wednesday 31 October and Thursday 1 November and will be co-located with Bridges Scotland at the Royal Highland Centre in Edinburgh. Register for free today.
Running alongside Traffex Road Expo Scotland and Bridges Scotland will be CAV Scotland 2018, a Transport Scotland event, organised by Transport Network, that brings together global experts in connected and autonomous vehicles with live demonstrations.