Phoebe Hirst, Alastair Dale and Jon Hart of award winning infrastructure law firm Pinsent Masons LLP, take a look at the impacts of Coronavirus (COVID-19) on industry contracts and wider legal considerations.
Following the Prime Minister's announcement on 23 March, the United Kingdom has been in a state of lock-down. This has come somewhat later than other neighbouring countries and has been introduced with some confusion as to what this might mean in practice for operational sites and the provision of maintenance services, which are at the heart of the highways industry.
Things are rapidly changing, infection rates continue to rise and government guidance is appearing on a daily basis, updating information as to who constitute 'key workers', which work is deemed 'essential' and what support is available for businesses and employees facing uncertain futures.
By the time this issue of Highways is published things may be very different but almost certainly the sector is going to be facing continuing challenges in relation to closed sites, non-delivery of materials and shortage of labour, whether from infected employees, those that are self-isolating or in quarantine or non-UK nationals who have returned home.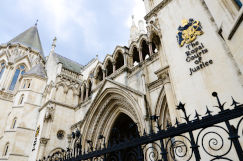 There will also be the question of how sites can be practically and safely operated where workers are complying with distancing requirements.
At times like this, thinking about contracts and agreements may be far from anyone's mind – but it may be a good place to start when thinking about addressing operational demands and programme and financial pressures.
Most importantly, the UK Government is providing guidance in respect of public sector contracts, considered below, in respect of introducing interim changes to protect contractor cash-flow and safeguard the viability of future performance.
Force Majeure, Frustration and other supervening events
A number of contractors and employers have been asking whether the pandemic constitutes an 'act of God' or event of force majeure. Force Majeure, means literally, a 'superior force', and is sometimes regarded as the basis for a contracting party being exonerated from its contractual obligations.
While civil code jurisdictions often provide clear legal provisions to deal with such circumstances, things are less clear in countries with common (judge-led) legal systems.
As a result of this, for most UK contracts, it will be necessary to consider what express provision (if any) has been included in your contract; force majeure clauses will generally deal with the definition, procedure, impact and remedies, which may include bringing a contract to an end.
Most standard form contracts that are commonly used in the highways industry do accommodate for Force Majeure, albeit that most do not expressly refer to the occurrence or consequences of a pandemic.
Just as many of us are finding with regards hand sanitizer and toilet roll right now, Force Majeure may not be a widely available option; but there are other supervening events that are provided for within some of the standard form contracts that can provide relief.
These might include 'changes of law' (which might include governmental instructions, or delayed planning permission for project works or departmental health and safety guidance). Other examples might include changes to the scope of works to provide additional services or to stop undertaking activities in response to COVID-19, or failures to act by project managers, employers and clients.
Additionally, reference is sometimes made to contracts being 'frustrated' (as opposed to 'frustrating').
Frustration is a reasonably well developed common law concept, which exists independent of the drafting in most contracts. Under this concept, the performance of a contract is rendered impossible as a result of external events and should, therefore, be brought to an end. The crucial point to emphasise here is that the agreement has become 'impossible' – not merely difficult or more expensive to perform.
Given the current situation, for the vast majority of projects, it is going to be unlikely that a party would be able to walk away from its contract on the basis of frustration - and equally, in many cases, on grounds of Force Majeure.
NEC
The NEC Engineering and Construction Contract (ECC), which is used in many highways construction and maintenance projects, does not refer expressly to Force Majeure events.
Even so, the contractual Compensation Event regime does reflect Force Majeure concepts.
Under an unamended ECC, a compensation event should give an entitlement to both time and cost compensation for every event falling within its scope.
For example, the NEC4 ECC makes express provision for events that stop a contractor from completing the whole of the works, and 'which neither Party could prevent, and one where an experienced contractor would have judged at the Contract Date to have such a small chance of occurring that it would have been unreasonable to have allowed for it'.
Additional Compensation Events exist which deal with instructions issued by the project manager and would cover a situation where the contractor is asked to do something different to that provided for in its scope.
As noted above, what is available under the contract is often dependent on the form being used. For example, in contrast to the ECC, the Term Services Contract (TSC) does not include express provision for acts of prevention.
Where using a project is using a TSC, it may be necessary to consider whether there are other Compensation Events that might be relevant, or whether Task Orders called off under the TSC make provision for time and cost entitlements.
Whether working with an ECC or TSC many (if not most) NEC contracts used by procuring authorities often include extensive amendments – particularly in respect of Compensation Event mechanisms – so, for this reason, it is sensible for any contracting party to consider carefully the specific wording used in each particular contract that is being reviewed.
PPP
The scope of Force Majeure under PPP projects is an extremely limited category. UK PPP projects (based on the PFI/PF2 standard) have a limited Force Majeure category of events, which does not include anything like pandemics (although there has been some debate over this in the last few weeks).
Similarly, 'Compensation Event' drafting included in most PPP agreements is more usually linked to concepts of employer breach, government breaches and discriminatory changes in the law, rather than events such as those currently affecting the industry.
Possibly more relevant will be the typical Relief Event mechanisms, which provide relief for contractors from liabilities related to non-performance during construction (such as extensions of time), performance deductions during operation and potential termination risk for non-performance.
However, even here most PFI/PF2 contracts will be unlikely to refer to pandemics. International PPP projects do allow more scope for covering pandemics: it may be the case that limited protection may be achieved by looking at indirect effects of the pandemic upon stakeholders, or third parties, or else the effect of compliance with government directions and guidance.
PPN 02/20
Crucially, the UK government would appear to recognise that many public sector contracts are ill-suited to address the challenges of these difficult and unprecedented times.
Guidance was issued on 25 March 2020, by which suppliers to public sector bodies may apply to procuring authorities seeking interim amendments to their contractual terms in relation to payment arrangements and performance regimes.
The guidance includes model terms, which may be used as the basis for amendments. Procuring authorities are 'expected to apply this as broadly as possible to ensure cash flow and jobs are protected'.
For those employers and contractors that are not yet familiar with PPN 02/20, an important consideration must be the extent to which this guidance can be brought to bear - and how quickly.
Communication and preparation are key
Amidst the uncertainty of COVID-19, communication with counterparties will be key.
Consider the following:
Prompt issuance of notices and notifications. Due to the fact that compliance with notification requirements in standard form contracts is often a condition precedent for entitlement to time and money, it is important to identify what notices may need to be issued and to do this in good time.
Early warning. Under NEC, contractors should ensure to issue an Early Warning notice (under clause 15) as soon as they become aware of an event that may affect the works or services. If a notice is not given, project managers are able to adjust the assessment of a Compensation Event (under clauses 61.5 and 63.7) to take account of mitigation that would have been possible, had the notice been given. It is also important to notify the employer under clause 61.3 within eight weeks of becoming aware that the event has happened.
Personnel. What plans are in place to ensure the welfare of employees and to preserve continuity of service?
Supply chain. Aside from ensuring compliance with any contractual obligations to ensure entitlement to relief, communication is also important for protecting one's position within the supply chain.
Record keeping. Regardless of the underlying contract, it is worth considering collating evidence and ensuring that records are kept to evidence Force Majeure or the issues encountered with complying with the contract conditions as a result of the virus. Records should be kept to reflect what cannot be done or delivered due to the disruption; costs incurred of maintaining the site, staff and equipment which are idle; and any adverse effects on productivity.
Temporary waiver: If the contract does not provide adequate relief from the Force Majeure or other supervening event relief, consider whether the Employer may grant a temporary waiver of obligations to provide some relief until the peak of infections has passed.
Right now the headlines are bringing increasingly dire news and things are looking to become potentially much worse before getting back to better health.
Now is probably a good time to dust off the contracts and identify what protections and processes might be relevant, but most importantly it is a time for all stakeholders to seek to work openly and collaboratively to keep the show on the road.