One of the UK's top infrastructure companies has released a thought leadership paper addressing the challenges of the future, including a increased focus on customer service and new forms of delivery and finance.
Among the key issues raised on the paper, which focuses on the strategic road network (SRN), is an increased emphasis on off-site construction in order to reduce the impact of road works and support more efficient processes.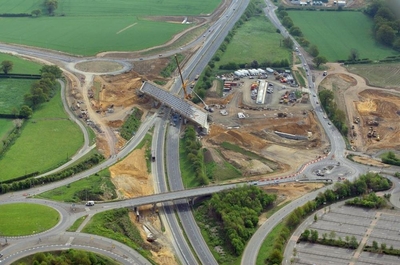 Highlighting potential new technology and processes to help with this, the company suggests this could involve modular 'click and fit' approaches, mobile factories, 3D printing; and the use of self-healing surfaces, as well as increasing amounts of automation in delivery and in design.
Balfour Beatty has committed to reducing on-site activity by 25% by 2025 and suggests thta serious 'consideration must be given to making the SRN self-financing, with the aim of achieving zero build and maintenance costs for the taxpayer, through innovative approaches such as selling electricity to the grid'.
The company rightly points out that with the creation of Highways England the roads sector has started to shift towards a greater emphasis on customer service, despite not traditionally focusing on this area. This issue is complicated by the range of users including the travelling public, freight and the industry itself.
Balfour Beatty believes that the sector's approach should focus on three initial key steps:
Understanding the customer: Using existing data more effectively to understand the customer to help make better decisions.
Improving communication in both directions: Capitalising on the dynamic technology environment to engage with customers and receive feedback.
Measure and optimise: Constantly check the impact of work on the customer via a feedback loop including surveys, callcentre logs, complaint lines, web feedback, and social media commentary.
The paper, Customer driven: Delivering roads for the future, states: 'Balfour Beatty's Highways business has started its journey to become a truly customer-centred organisation. The process has led us to develop a cache of new ideas which will add real value to the customer. In the next few years, we believe that taking the successful technology that has been used on Smart Motorways and building on it, is the best approach. This includes approaches such as using existing 3D interactive models of schemes to test how signage can be used to minimise delay and incidents.'
Methods of communication:
Balfour Beatty outlines ambitions to use 'bespoke customer apps for each project'.
'[This would] provide a more effective feedback mechanism to help refine communications during schemes, teamed with a Customer Insight Portal of information including live delay notifications, photos of progress, and advance warning of delays to keep customers informed. Building on our pioneering work in this area on customer insights and behavioural research, the Customer Insight Portal would also serve the purpose of providing more information about the customer and their needs in a feedback loop.'
Minimising roadworks is essential
It emphasises that a key issue for customer service in roads is the balance between necessary imporvements and works on the infrastructure asset and minimsing their impact on journey time reliability and customer experience. This difficult balance is compunded by the fact that four million people use the SRN every day and the Government predicts that demand will grow by over 40% by 2040.
Off-site manufacturing and virtual reality:
Balfour Beatty aims to build a culture where 'off-site eventually becomes the norm'. Under its 25 by 2025 strategy, it has championed the philosophy of 'Design in a day, change in a minute and build in a week.'
To support this strategy the company is building a 'digital core' that create standard solutions, develop libraries of standard products and to test their principles and buildability in a 'Digital Rehearsal Room', which will test, destruct and refine solutions to deliver the best possible product.
As a result of this, Balfour Beatty hopes to move to 'autonomous design' – 'our aspiration is to get to 70% autonomous design where standard solutions and standard products are plugged into 5D BIM models'.
Balfour Beatty suggests that design for manufacture and assembly (DfMA) approaches - where structural components are manufactured off-site and assembled on site by small teams - can reduce build time by 30-50% 'by allowing the work on two phases or more to take place simultaneously: while one part of the scheme is being completed onsite, the elements needed for the next phase can be constructed elsewhere'.
It also highlights plans to make increasing use of Virtual Reality, which has the potential to 'significantly reduce the number of onsite accidents and improve highways construction safety'.
'It achieves this by putting those working on the scheme into the situation they will experience in a fully immersive scenario, without the live risk, rather than briefing them orally, thus helping them retain the information better.'
Autonomous vehicles and solar power
'With self-driving cars rapidly becoming a reality, the roads themselves will also need to change completely to accommodate the new technology, resulting in a signage-free network without gantries, with roads surfaces embedded with solar panels.'
Skills
The paper envisages a future delivery market where fewer workers will be needed but they will be trained in a wider range of skills, including those needed for the digital management of infrastructure.
Off-site construction also requires infrastructure to be designed in detail at planning stage, which calls for the technical and design teams to work more closely together supported by greater use of Building Information Modelling (BIM) and other integrated digital platforms.