The top Department for Transport (DfT) official responsible for local highway resilience has given an insight into the scientific work the department is doing to tackle climate change.
Giving the keynote address on the opening morning of the sector's leading climate conference Cold Comfort, Matt Eglinton, the DfT's head of local highways maintenance, innovation, and resilience, first thanked the local highways sector for its resilience throughout COVID.
He noted that over the last winter the Omicron variant had caused a lot of pressure for highway authorities, particularly around driver shortages.
He said: 'Thank you to the sector, we were fortunate – it wasn't as terrible as it could have been but the response from the sector, from local authorities was fantastic.'
He also recalled a conversation with Highways last year, in which he had asked if Cold Comfort would broaden out to cover not just winter but climate change and was assured that it was 'already sorted'.
He said: 'I want a transport network which is flexible, operates safely, and responsive to changing climate and the local highway network is absolutely integral to that, working in tandem with the strategic network.'
The conference did indeed have a strong climate change theme, with the sub-heading 'introducing Climate UK'.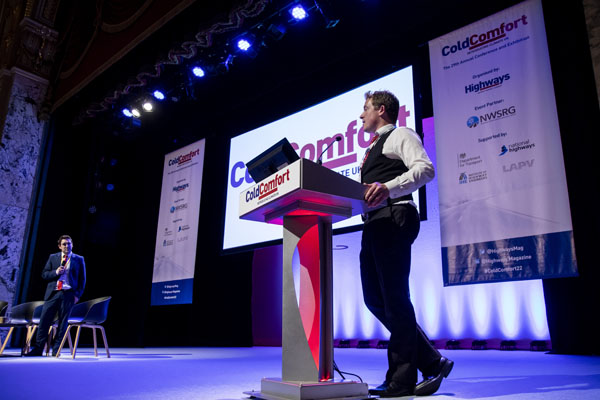 Matt Eglinton (right) answers questions from delegates. Highways editor Dominic Browne left
Mr Eglinton described the issues of adaptation to climate change and resilience, referring to a 'virtual circle of decarbonisation adaptation and resilience'.
He said: 'My challenge at the moment is that we've proved with some of the strategic bodies – Network Rail, National Highways – adaptation is built into strategic planning. And of course many, many local authorities are doing this to the full extent, actually to ensure that we have a fully adapted and resilient local highway network.
'Because resilience to extreme weather should form part of every local authority's capital maintenance programme and their decision-making processes.'
Mr Eglinton said through the current (second) national adaptation programme, which runs to 2023, his team was working with the DfT's Road Investment Strategy team and National Highways to develop a cross-modal adaptation strategy taking in rail, maritime and aviation, exploring potential actions against all risks identified by the Climate Change Committee.
He added that the DfT was looking to expand the role of science, with people asking what role innovation can play. He said: 'Our science team and our chief scientific adviser, Sarah Sharples, is all over this. She is very, very keen [with] a big focus on data and evidence to ensure that what we do and what we deliver is right and works.'
Mr Eglinton said he was looking forward to the publication by the DfT of two documents. One was guidance on the development of local transport plans, which would reinforce the need to build best practice around adaptation in plans.
In addition, with the DfT having begun to roll out a series of toolkits for local authorities on decarbonisation, it was now looking at 'the more infrastructure-related bits'.
He said: 'We are speaking to a lot of our stakeholders at the moment…to understand what do authorities need? This was one of the key things around sustainability and decarbonisation that was part of our work with local authorities. They are making plans but one of the big takeaways was having that toolkit.'
He concluded: 'The broad consensus is – in the literature - the economic benefits of adaptation far, far, far outweigh the costs of solving it once the horse has bolted.'