The Welsh Government has launched 50mph speed enforcement using average speed cameras across locations specifically chosen to improve air quality.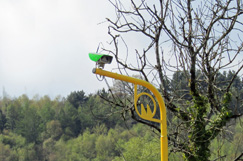 Over the summer of 2019, the Welsh Government reduced speed limits to 50mph at five locations on its strategic network, though the limit was variable in some areas.
The locations were:
A494 between the Wales/England border and St David's Interchange Deeside - Approx 8km
A483 between junctions 5 and 6 Wrexham. Approx 2km
M4 between junctions 41 and 42 Port Talbot. Approx 5km
A470 between Upper Boat and Pontypridd. Approx 5km
M4 between junctions 25 and 26 Newport (variable speed). Approx 3km
It also added signs to highlight the new speed limits and average speed cameras at four of the locations to monitor traffic speeds.
Nitrogen dioxide levels in those areas have since fallen by between 37.2% and 47%, the Welsh Government said.
Today (4 October) enforcement begins and the Government will start to issue advisory notices to drivers going quicker than the 50mph limit, with fines for drivers who travel significantly faster.
The M4 scheme between junctions 25 and 26 will change from variable speed limit enforced by spot speed cameras to a permanent 50mph, although reports suggest enforcement could be delayed.
The other four schemes will be enforced using Jenoptik SPECS average speed cameras, which monitor the number plates of vehicles as they pass fixed points on the network to work out an average speed.
Jenoptik UK deputy managing director Geoff Collins: 'Statistics show that when installed as part of a casualty reduction scheme, average speed cameras are startlingly effective, significantly cutting the number of killed and seriously injured people.
'However, they also lead to less speed variability and reduced emissions, meaning better air quality, so it is very forward-thinking of the Welsh Government to take advantage of their benefits in this way. The advantage is that average speed cameras have the support of drivers, with anecdotal evidence suggesting they are far more accepted and popular than spot-speed cameras.'
The Welsh Government said in a statement: 'We have a legal duty to comply with the Air Quality Standards Regulations (Wales) 2010, which sets an annual limit value for NO2 of 40 μg/m3. Levels of NO2 as recorded by the national DEFRA Pollution Climate Mapping (PCM) model are above the legal limit at five locations on the Welsh Government's motorway.'
Deputy minister for climate change, Lee Waters, who has responsibility for transport policy as well, added that introducing the cameras will help Wales go 'further and faster' in cutting emissions.
He said: 'It's clear that the speed restrictions we've introduced on our most polluted roads are working - the results speak for themselves – but compliance with these limits is essential if we are to achieve the reductions we need to make in the shortest possible time.'
Initially many of those caught breaking the limit may receive a warning letter, while the worst offenders will be fined, the police confirmed.
South Wales Police roads policing lead for Wales, assistant chief constable Mark Travis added: 'By implementing an advisory letter programme, we will be able to inform people of the importance of complying with the speed limit at these locations, whilst still prosecuting the most dangerous drivers.'