Highways reports from the National Winter Service Research Group's (NWSRG) workshop on forthcoming changes to its guidance.
The NWSRG's workshop took place on the outskirts of Exeter on a mild day in September, six months after Devon was heavily hit by snowfall as the Beast from the East's cold air hit the damp air of Storm Emma.
But the event was also timely in that October is the month when many councils begin their winter service. This October also sees the deadline by which councils are supposed to work to new winter service guidance as part of the new code of practice.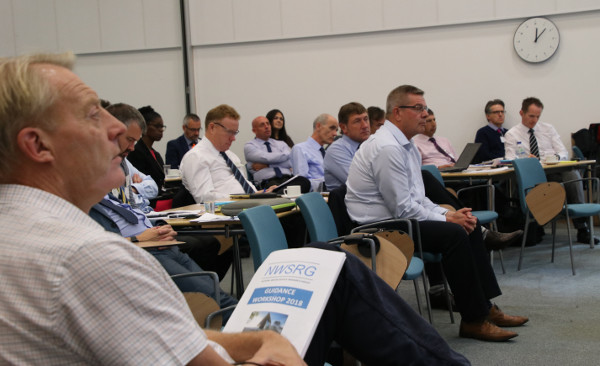 Picture: Chris Cranston
The NWSRG of course had been invited to rewrite what was Appendix H of the old code, bringing it into line with the risk-based approach under the new one.
NWSRG chair Chris Cranston said parts of the guidance were nearly ready to submit to the UK Roads Board. It has been rewritten to make it easier to read and understand than Appendix H, with supporting information in appendices. The Institute of Highway Engineers, whose chief executive Richard Hayes was present, had helped format it for online publication.
Attendees heard presentations on the theory and practice of determining which parts of an authority's network are to be treated, including a case study from Andy Cole, who works with Mr Cranston in Devon.
He stressed the importance of listening to claimants and their representatives, who, he said, may be raising issues that need to be considered.
NWSRG vice chair Carol Valentine introduced a section on treatment methods – dry salt, treated salt, pre-wet salt and direct liquid application. Attendees were given a preview of what are now just two tables, showing which methods provide good performance, are appropriate, or not recommended, for a range of conditions for both precautionary and reactive treatment.
Ms Valentine said there was 'no right answer' and that authorities have to look at what is appropriate for them.
David Kinsey of Derby City Council gave a presentation on why it moved to using treated salt, explaining that issues had arisen with salt being too dry following the construction of a new storage barn.
While using pre-wet requires a capital outlay, forecasts showed that treated salt could save approximately 1,000 tonnes, more than covering the premium paid for it, while the increased stability of the moisture content provides greater resilience.
Robbie Jamieson of Essex Highways recounted his experience of the cost benefits of using pre-wet salt, acknowledging that no one method was best but suggesting that councils need to move away from using dry salt. He noted however that in responding to the Beast from the East, Essex switched briefly to dry salt to meet demand.
Peter Turland of Doncaster Council spoke about the importance of spreader management, which covers more than calibration he said. He gave an update on the new guidance on the issue, which is with the steering group for final approval. Where the old guidance required spreaders to be re-calibrated every four months, the new version instead stresses the need to monitor throughout the season.
Adrian Runacres, a technical adviser to the NWSRG, gave an update on the new guidance on spread rates, which now has just three tables on one page. He pointed out that using less salt increases resilience by making stocks last longer, but warned that spread rates can only be used with confidence if other elements, such as calibration, are right.
Mr Hayes observed that while the guidance uses increments of one gram per square metre (gsm), many older spreaders can only be adjusted by five gsm at a time.
Mr Runacres also covered the importance of traffic in making low quantities of salt effective and warned that assumptions about residual salt need to be evidence-based, recommending 'eyes on the road'.
On the issue of when to treat when precipitation is expected, the guidance includes a note acknowledging what a tricky call this can be, which Mr Runacres said could help authorities in court.
He also showed draft guidance suggesting that practitioners consider increasing spread rates at higher wind speeds. With the guidance stressing the importance of good storage to low spread rates, two authorities described their experience of developing new facilities.
Chris Riley of Gloucestershire CC recounted how it had problems with salt being slightly too dry or too damp, depending on whether it had come straight out of the mine, but suggested that the wider tolerances in the new guidance would help with this.
With the Met Office hosting the event, it ended with a discussion of weather forecasting. Met Office scientist Anthony Veal explained the limitations of different types of forecast while Mr Cranston brought matters full circle by looking at Devon's application of forecasts to its gritting routes.
There are, he suggested, more savings to be made by increasing the granularity of route-based forecasting.