Following the RAC Foundation and ADEPT's annual bridge maintenance survey, Kevin Dentith, chair of the ADEPT Bridges Group, discusses the importance of bridge management and how local authorities can use capital funding for key high-level inspections.
When the Morandi Bridge collapsed in Genoa in August 2018, it sent shockwaves through the engineering world. The bridge, with its hidden steel cables encased in concrete, was a focal point of Genoa's cityscape. Part of the A10 motorway linking northern Italy to France, it carried an estimated 25 million vehicles every year.
As far as we know, there are no Morandi-type bridges in the UK but we do have structures containing hidden high-tension cables. These post-tensioned bridges are often major structures and can be found on principal routes carrying large volumes of traffic.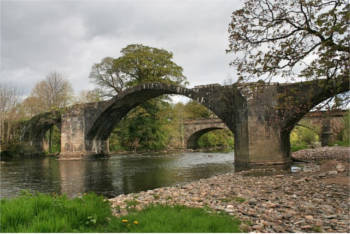 In the UK, highway bridges are subject to general inspections, essentially a visual examination undertaken every two years. A more thorough principal inspection (PI) is performed every six to 10 years.
For bridges with hidden high-tension cables, post–tensioned special inspections (PTSI) are designed specifically to examine these hidden components. After an initial full PTSI has been carried out, a structural review should take place every 18 years to ensure the bridge remains safe for use.
A full PTSI is expensive and costs can reach £100,000 or more for large bridges. If this is the first PTSI, the inspectors use endoscopes and small cameras to get a view inside the cable ducts to check the condition of the steel strand and determine whether protective grout has filled the ducts sufficiently to prevent corrosion.
These detailed inspections require specialist bridge inspectors. In Devon, where we have 3,500 bridges - some 5% of the UK's bridge stock, our in-house bridge team is necessarily large - 38 full time engineers and technicians plus equal support from a private sector partner. Not all authorities have this advantage and finding a suitably qualified inspector can be difficult.
This is being addressed through the Lantra Bridge Inspector Certification Scheme and in the last 18 months, 31 inspectors have gone through the process. Uptake has been slow, but is expected to gain momentum when Highways England requires that only certified bridge inspectors are used on their assets later this year.
The RAC Foundation has been running a bridges survey for the past three years with support from ADEPT Bridges Group. This year, following Genoa, we asked for additional questions on post-tensioned bridges to be added including the costs of undertaking PTSIs.
According to the survey, only half the 600-plus post-tensioned bridges on England's local roads network have had a PTSI in the last 18 years. Up to 200 may never have had a full inspection.
While we cannot be certain of the reasons for this, as with other asset management issues, continuing revenue budget pressures are making resource allocation decisions very difficult. For many highway authorities the cost of bridge inspections traditionally falls to the revenue code.
The good news for structures asset managers is this isn't the case for principal or PTSIs. Following the adoption of the new code, Well-managed Highway Infrastructure, the Department for Transport has confirmed that these can still be undertaken using capital funding, which at present is under less pressure than revenue.
The announcement that the £200m-plus Challenge Fund, managed by the DfT, is to target highway bridges over the next three years is undoubtedly welcome. But, in my view, we also need to focus on asset management including bridge inspections. When it comes to safety, we cannot afford to be in the position where, to coin a phrase, we don't know what we don't know.
ADEPT's Bridges Group has been invited by DfT to devise a prioritisation system to help identify areas for allocation, allowing some bridges to be strengthened or refurbished. As a result, we have provided a draft, based on that used by the London Bridges Engineering Group (LoBEG), but I have also recommended that funding is allocated to authorities who need to undertake PIs and PTSIs.
According to the data received through the RAC survey, the cost of undertaking checks on the bridges across England's local network that have never had a PTSI is £15m. This is a fraction of the whole fund. In terms of public safety and bearing in mind the tragedy that was Genoa - to me at least, it's a no-brainer.
It is imperative that this work is undertaken consistently if we are to minimise the risk of a Genoa-type event here in the UK.
The picture is of Cromwell's Bridge also known as Devil's bridge, which crosses the River Hodder. The RAC Foundation did not specify which bridges were substandard. Highways magazine does not intend any implication about the current state of Cromwell bridge by using it in this article.