The latest Highways/FiTZ INDEX survey has revealed deep concerns within the sector about the nature of procurement, especially its ability to foster innovation, take on and share risk, bring in new entrants and support SMEs. However, while there is a feeling procurement itself is not evolving there are signs the sector itself is ready to take steps to drive change.
Less than one in five members of the roads sector (19.8%) feel that procurement satisfies its needs and only a third feel public sector strategies are evolving towards more satisfactory outcomes, the latest Highways/FiTZ INDEX survey has revealed.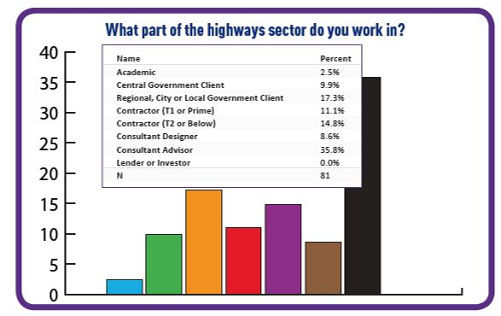 The exclusive survey demonstrates key concerns and a deep ambivalence to how procurement works within the highways sector, particularly for the supply chain and SMEs.
The majority of respondents (54.3%) disagreed or strongly disagreed that 'procurement in the highways sector is fair for non-Tier One suppliers and for new entrants'. No one strongly agreed with the statement. And 79% strongly agreed or agreed that 'procurement has, intentionally or otherwise, actually driven more risk averse behaviours from suppliers over the last five years'. No respondent strongly disagreed.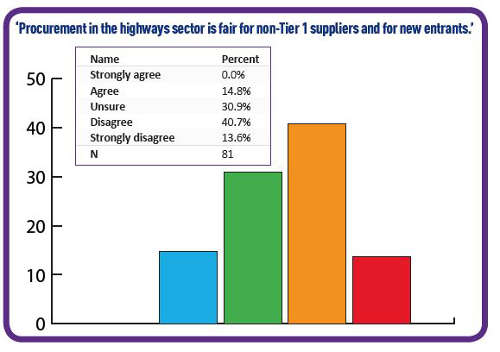 There was ambivalence over whether public sector procurement strategies evolve from one contract period to the next, and are progressing towards more satisfactory shared sector outcomes. Few respondents had strong feelings one way or another, but 39.5% disagreed or strongly disagreed – an exact third (33.3%) strongly agreed or agreed.
The survey comes after the Institution of Civil Engineers (ICE) launched its latest attempt to shake-up procurement in the infrastructure sector under the Project 13 initiative, which calls for radical changes to roles and responsibilities under a more integrated 'Enterprise Model' (See Highways June 2018).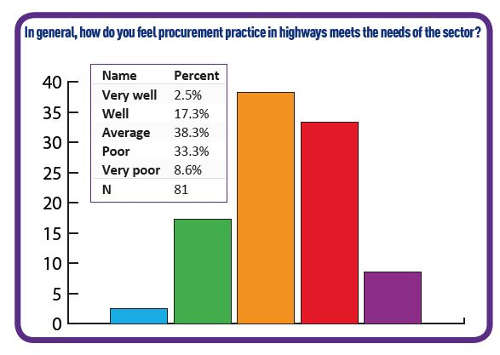 Senior figures in the sector, including Amey's head of highways, James Haluch, and AECOM's Europe sector leader for highways, Dave Beddell, have also lined up to call for change.
The survey asked: 'Do you feel your organisation is willing to embrace a new model of service delivery – such as the Project 13's Enterprise Model – as opposed to the traditional client contractor model?'
Encouragingly, close to half the respondents (45.7%) said yes to such a major change. However almost one in ten (9.9%) said no and 44.4% were unsure. The fact that so many remain unconvinced of the potential for change leaves questions for the whole sector to answer.
The simplest question of all, yet perhaps the most complex issue, was 'who should be most responsible for driving innovation in procurement?' Two thirds (66.7%) said the public sector and a third said the private sector. However more than 70% of respondents were from the private sector.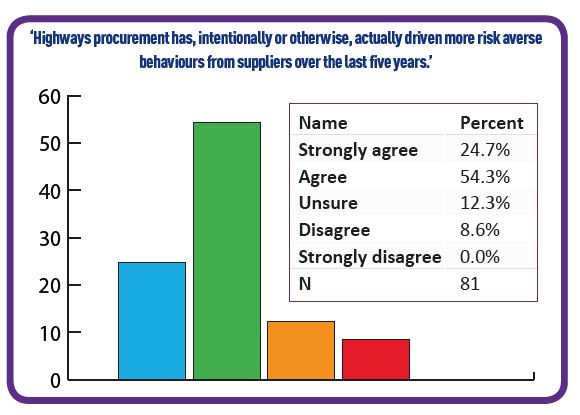 In total there were 81 respondents covering almost the full range of sector roles including central government client, regional city or local government client, Tier One contractors, supply chain partners and consultant designers and advisors.
How can we improve?
As part of the survey we asked respondents to suggest changes that need to be made to improve procurement in the sector. Common themes developed around the large cost, and lengthy time involved in the process and a lack of transparency preventing more genuine collaboration.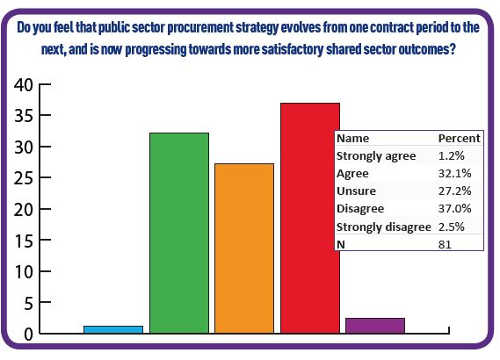 Respondents also suggested that action needed to be taken to help new entrants and SMEs compete for work and provide more innovation in the market.
A lack of skills and clarity over desired outcomes in the public sector was also raised a number of times. One respondent said: 'Bring a regional delivery focus on the bigger goals for all to coalesce around and solve, to raise focus up and above just delivering the contract. Speaking as an SME, I'd like to see a move away from framework agreements that end up with a handful of Tier One suppliers each with enormous supply chains.'
Another respondent said the risk/reward model is imbalanced and change in the risk/reward profile 'needs urgent action'.
'If we want to truly work together for innovation and efficiency, we need to stop being so driven by competitiveness and ensure that margins are sustainable, which they are not currently.'
Another response suggested: 'A shared mutual benefit to incentivise all within the supply chain and client organisations to actively seek continuous improvement for the delivery of efficiencies, leading to unit rate reductions and the elimination of waste. To eliminate the current business operating model of high turnover with low margins to one of high turnover and high margins based upon a culture of continually seeking perfection in a zero waste culture and a single integrated team approach.'
Other notable suggestions included: 'Perhaps something following the Department of Transport's [specialist technical advice for rail] STAR framework for rail, which encourages new entrants and companies of different sizes, could help.'
Another argued better data on cost would help: 'Most of the clients and consultants only really have data on selling price. If we could all really understand cost and work to reduce that there would be more room for the industry to pay itself decent margins. As it is, this transparency is very difficult to achieve because of the fragmented nature of the supply chain with multiple subcontract and supply layers adding to the price.'