The number of local road bridges that fully collapsed in Great Britain last year increased by 70%, while the overall number of substandard structures rose for the second year running to reach 3,211, according to a major survey.
The number of structures that collapsed increased from 10 to 17 while the number of substandard bridges saw a 3.4% increase on the 3,105 figure at the end of 2020 and up 5% on the 3,055 figure a year before that.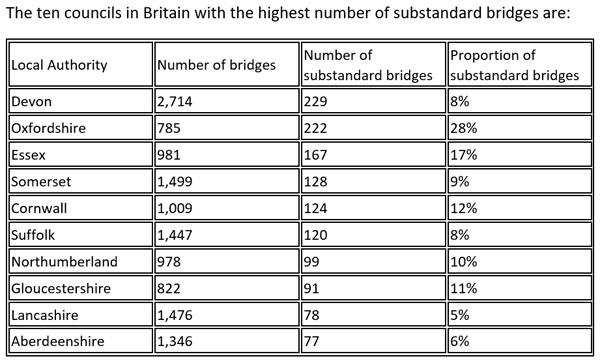 The £1.16bn estimated cost to bring all the substandard bridges back up to perfect condition was up slightly on the £992m figure of a year earlier.
Carried out by the RAC Foundation with the help of the National Bridges Group of ADEPT, the survey is based on data provided by 196 councils, which are responsible for maintaining 70,944 bridges meaning roughly 4.5% of the bridge assets are substandard.
The RAC/ADEPT analysis found the one-time cost to clear the full maintenance backlog on all 70,944 bridges would be £5.44bn.
Between them, councils say they would ideally want to bring 2,374 (74%) of the 3,105 substandard bridges back up to full carrying capacity. However, budget limitations mean they anticipate that only 379 of these will have the necessary work carried out on them within the next five years.
Overall, the current number of substandard bridges is below the 3,194 total for 2018 and the 3,441 figure for 2017, suggesting that councils had been 'fighting to hold their ground over the last five years', Steve Gooding, director of the RAC Foundation, said.
'Whilst the increase in substandard bridges year-on-year is not huge the picture over the last five years looks more like flatlining than sustained improvement, and with the threat of more severe weather events linked to climate change that must be a worry for the overall resilience of our highway network,' he added.
The national level
| | | | |
| --- | --- | --- | --- |
| | Number of bridges | Number of substandard bridges | Proportion of substandard bridges |
| Highways England | 9,399 | 77 | 1% |
| Transport Scotland | 2,612 | 39 | 1% |
| Welsh Assembly | 1,268 | 104 | 8% |
At the end of 2021, councils reported that 17 bridges had fully collapsed in the previous twelve months. Of these 17 full collapses, 12 were in Dorset and 5 were in Denbighshire.
A further 37 had partially collapsed in: Denbighshire (17); Conwy (2); Perth and Kinross (2); Stirling (2); and Dorset, Aberdeenshire, Bolton, Buckinghamshire, East Dunbartonshire, East Riding of Yorkshire, Fife, Gwynedd, Merton, Newport, Peterborough, Shropshire, Staffordshire and Wrexham ( with 1 each).
Last year's survey reported 10 bridges across Great Britain had fully collapsed and 30 partially collapsed.
A bridge is defined by highway engineers as a structure over 1.5m in span and a substandard bridge means one unable to carry the heaviest vehicles now seen on our roads, including lorries of up to 44 tonnes.
Many of the substandard bridges are subject to weight restrictions, the RAC Foundation said, while, others will be under programmes of increased monitoring or even managed decline.
At the same time as facing increasing repairs, council engineering experts are warning about a shortage of staff to carry out inspections to ensure the bridge stock remains safe and fit for use.
Kevin Dentith, chair of the ADEPT National Bridges Group, said: 'The shortage of experienced and qualified people to undertake these crucial duties is putting a huge strain on the bridges fraternity who are struggling to recruit and often have to resort to 'growing their own' through apprentice schemes which are excellent but clearly require a great deal of time, commitment and training before the staff are proficient to carry out the tasks required.
'The incidence of bridge collapses that lead to personal injury and traffic disruption is thankfully low but unless more engineers and technicians are encouraged to join the industry and highway authorities receive appropriate funding from the Department for Transport we are at risk of seeing a higher number of bridge collapses than those identified in this year's RAC Foundation survey.'
This survey results are the second blow to local infrastructure in a week as it comes on the heels of a £2bn jump in the local roads maintenance backlog in England and Wales, now running at more than £12bn, recorded in the ALARM survey.