The Welsh Government has insisted that any future decision about whether to build a relief road for the M4 at Newport 'is entirely a matter for Wales' after writing down a further £79m on the abandoned scheme.
In the absence of a new road, officials have consulted on proposals to implement a clean air zone (CAZ) in the area, as well as on a trunk road near Pontypridd.
Last month Highways reported that UK Government ministers could still overrule the devolved administration over plans for a new route for the motorway near Newport following the rebranding of England's strategic roads operator as 'National Highways'.
Responding to the possibility, a Welsh Government spokesperson said: 'This is not a matter for the UK Government. The decision about whether to build an M4 relief road is entirely a matter for Wales and the decision has been made.'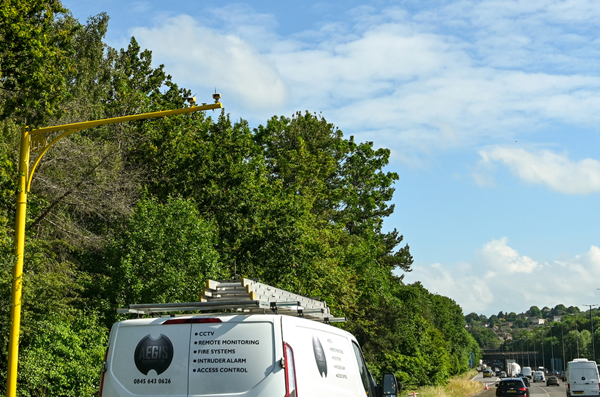 Average speed cameras have been installed to enforce a permanent 50mph limit
Welsh Government first minister Mark Drakeford has told members of the Welsh Assembly that his administration has now written down a further £78.9m of the remaining asset value of costs associated with development of the M4 relief road project, which was scrapped in 2019.
The move followed a £43.1m reduction write down in 2019/20 and was part of the total expenditure of £135.7m from the inception of the project up to the point at which the decision was taken not to proceed.
The spending was incurred on development work including environmental surveys, ground investigation data and transport models.
Officials have also confirmed that the Welsh Government has consulted on the possibility of implementing CAZs in the area, as well as on the A470 at Pontypridd. Both sections of road were identified in 2018 in the Welsh Government's supplemental plan to the UK proposals for tackling roadside nitrogen dioxide concentrations.
At that time, the M4 relief road was still under consideration and it was decided to implement 50mph speed limits rather than implement CAZs.
A spokesperson for the Welsh Government said that it did not have any plans to introduce congestion charging, but added: 'In line with our legal obligations to reduce harmful levels of nitrogen dioxide, we have commissioned surveys to gain people's views on clean air zone proposals on the M4 between junctions 25 and 26 in Newport and on the A470 between Upper Boat and Pontypridd.'
One survey was completed by private car owners, while a second was aimed at commercial vehicle drivers.
Last month, it was reported that the average speed cameras on the M4 at Newport have not yet been turned on, despite a previous announcement that this would happen in March.