Our 'sister' publication, Bridge design & engineering (Bd&e) magazine and the organisers of the Bridges conference and exhibition have unveiled a new Bridges Awards competition for 2021, in partnership with the Bridge Owners' Forum.
There are four categories, three of which are divided by size of project - below and above £5m.
The Bridges Design Award aims to identify an outstanding project that combines engineering skill, aesthetics, technical innovation and environmental considerations.
The Bridges Construction Award is presented to an organisation or partnership that has demonstrated remarkable achievement during a construction project involving one or more crossings.
The Bridges Award for New Life recognises an outstanding project involving bridge refurbishment, reconstruction, repurposing or retrofitting for the benefit of the local community.
The Bridges Management Award (no size restrictions) recognises innovative best practice by a bridge owner and/or service provider in the management, maintenance, monitoring or inspection of a crossing/crossings in the UK.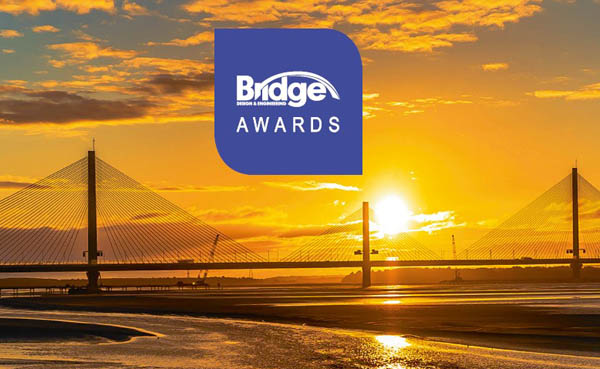 Bd&e editor, Jose Sanchez, said: 'The Bridges Awards aim to recognise and honour individual projects and/or organisations for outstanding achievement. They are designed to celebrate the sheer ingenuity, project management and cooperative skills of the people behind the design, construction and maintenance of pedestrian, highway and rail bridges in the UK. The search for the extraordinary has now begun.'
The official charity for the event is Bridges to Prosperity, a United States-based non-profit organisation that partners with local governments around the world to connect communities via pedestrian bridges, end rural isolation and provide the foundation for opportunity.
All entries received by the deadline of 31 March 2021 will be reviewed by an independent judging panel. They will take into consideration factors including individual/team contribution to a project, environmental impact, quality of design and construction, innovative factors, and benefits to the community.
Winners will be announced as part of eBridges 2021 – the 28th Annual Conference, Exhibition, and Workshop event taking place on a virtual platform from 26-27 May 2021 and incorporating online face-to-face networking for delegates.
For more details on how to enter, please visit the website at https://www.bridgesawards.co.uk/ and for more about eBridges 2021 visit https://bridges.tn-events.co.uk/.