Last December marked a major anniversary in Great Britain's roadbuilding history - 60 years have now passed since the country's first motorway, the Preston Bypass, was formally opened by prime minister Harold Macmillan, heralding the dawn of a new era for motoring.
With construction of the more celebrated M1 having begun earlier in the same year, few outside of our industry – and indeed few within it – are aware that this eight-mile section of road that now forms part of the M6 and M55 was the UK's original high-speed route.
Setting a blueprint
Described at the time by the minister of transport, Harold Watkinson, as a 'guinea pig' for all future projects, the Preston Bypass provided an initial blueprint for motorway design and construction.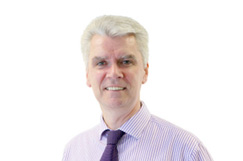 The carriageway consisted of two lanes running in each direction, sliproads at every junction and a hard shoulder incorporated as a 'principle feature of the layout of the motorway, as distinct from almost any all-purpose road built in this country to date', according to a booklet published to accompany the opening ceremony.
In an era that was somewhat less health and safety conscious and pre-dated the development of the modern crash barrier, the road's central reservation was planted with a hedge to help lessen glare from the headlights of vehicles travelling in the opposite direction.
While the bypass claimed to be 'designed to enable traffic to travel safely at high speeds and minimise the chance of accidents arising from bad driving', it opened without any legal speed limits. Nevertheless, the average speed of vehicles using the motorway during its first month was recorded at a little under 40mph.
Tarmac was appointed as the project's main contractor to construct the motorway and 19 bridges across the carriageways, being awarded a princely £2.4m which, adjusted for inflation, would be worth around £53m today.
Perhaps inevitably, the scheme suffered programme delays as a result of the poor British weather, with the project 'destined to be thrown completely out of gear by the rains, which continued almost uninterruptedly right from the commencement'.
Despite these sustained downpours making the project more difficult, by the time of its completion approximately 3.4 million tonnes of earth had been excavated, 35,000 cubic yards of concrete poured, and 220 miles of high tensile wire incorporated into the build.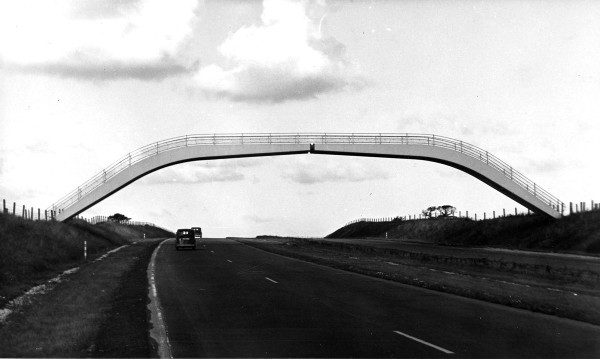 A five-month contract extension resulted in the opening ceremony being postponed from the summer to 5 December 1958, with crowds of local people attending to witness the occasion. Hundreds queued in their vehicles to become among the first to drive the new landmark.
This first motorway was designed not only to accommodate the growth in traffic volumes, but equally as a symbol of the country's post-war economic recovery. Becoming the first link in a chain of a new network of motorways that would grow and connect the nation, there was also a genuine belief at the time that its opening would provide a boost for the health of the community and a shot in the arm for the national economy.
Developing materials, improving standards
Lessons learned from that pioneering scheme have continued to shape our nation's asphalt arteries, and the ongoing development of the strategic road network plays a vital role in keeping our country moving.
We undoubtedly owe the groundbreaking Preston Bypass much, but modern highway construction has changed unrecognisably in the decades that have followed – and the drive to work more safely, more productively and more sustainably has dramatically changed the way we operate. For example, at the beginning of my own career, outputs from quality control material testing were calculated by hand with a calculator and entered on a standard trend sheet – and placed a high dependence on a technician's diligence to spot trends and take action. Now computers not only do the calculations, but also automatically raise alerts based on statistical analysis.
Similarly, the ability and skill of the asphalt plant operator was historically the key factor in assuring quality, whereas now the asphalt production process has advanced significantly, with automated systems able to flag any potential issues immediately to guarantee accuracy and consistency.
British standards for materials have also improved exponentially in the decades that have passed since the first motorway was constructed. Then, coal tar was regularly used as a binder for surfacing materials, before it was identified and subsequently classified as hazardous.
Today, modern polymer modified binders can create tougher, more flexible bitumens, while additive technology means that asphalts can now be produced at cooler temperatures.
Tarmac's low temperature asphalt, UltiLow, has contributed to reducing resurfacing timescales and cutting carbon on many projects. Mixed at around 40°C lower than its equivalent hot mix, cooling times are significantly reduced, thereby bringing forward completion times and allowing roads to be opened sooner, resulting in less public disruption.
The concept of recycling would have been entirely unfamiliar to the teams working in Preston in the 1950s, where all of the materials would have been produced using virgin aggregates. Now our national specifications allow up to 50% recycled use in lower layer materials and 10% in surface courses, with both numbers predicted to rise as technology improves.
A digital revolution
Despite the remarkable changes our industry has witnessed, the most exciting changes undoubtedly lie ahead of us. Coincidentally, one month before the Preston Bypass opened, the world's first computer exhibition was hosted at Earl's Court in London. Nobody at the time could have predicted the impact that digital technology would have on our society, including our roads.
The National Infrastructure Commission's Roads for the Future programme has begun to offer us a glimpse of how autonomous vehicles and digitisation will change infrastructure requirements in the coming decades.
Analysing data from connected cars to improve traffic light systems, considering how autonomous vehicles can be used to beat congestion and examining how driverless cars could be allocated dedicated routes were all among ideas put forward in anticipation of how our roads will soon need to evolve.
These changes are not likely to be far from the horizon. But we are already seeing the beginnings of a digital revolution in highways and the delivery of critical infrastructure.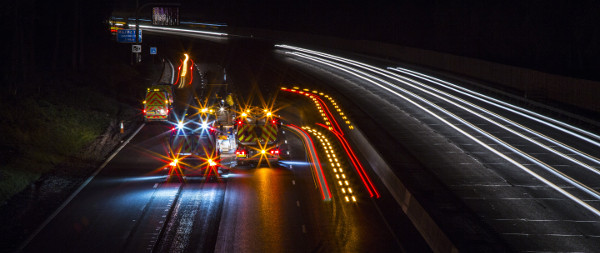 The software that Tarmac has already adopted on highways projects, BPO ASPHALT, allows us to plan schemes in meticulous detail before starting on site, producing detailed work schedules to enable efficient project delivery.
Elsewhere, our automated paving technology uses thermometers, sensors, and GPS tracking location systems to create a permanent and accurate digital record of a road installation, including the type, temperature and quality of the materials through to the ambient weather conditions.
Not only does this help asset managers to facilitate evidence-based spending decisions on their networks, but analysis can potentially identify why and when a road might fail in the future.
From Preston to the present
It's right to look back on our roadbuilding history and celebrate the major milestones and projects that have helped to shape Britain's infrastructure as we know it today.
More important still is that these reflections provide a window to look towards the future and focus on what we can do to improve highways construction in the near term.
With the chancellor recently confirming that £25bn will be allocated to Highways England as part of its post-2020 investment strategy, transformative projects such as the A66 Trans-Pennine, the Oxford Cambridge Expressway, and the Lower Thames Crossing will soon provide high profile opportunities to showcase our industry's cutting-edge innovation.
Sixty years ago, the pioneering Preston Bypass provided people with a first look at the future of road building. By continuing to evolve and embracing new technology, now we are already catching a glimpse of what highways may look like sixty years from now.
Brian Kent (pictured above) is technical director at Tarmac