Highways England was initially 'in denial' about needing to prove it had made the level of efficiency savings it was claiming, its regulator has said.
Speaking to Highways after the publication of his organisation's annual assessment of Highways England, the Office of Rail and Road's (ORR) chief executive, John Larkinson, described the issue as 'a huge public trust question', but said the two organisations had eventually developed a 'very professional way of working together'.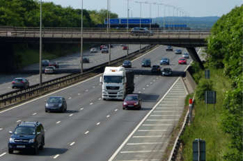 The annual assessment states that the necessary evidence 'was developed by Highways England late in the road period in response to our challenge and we have disagreed in some areas'.
The review concluded that Highways England had achieved £1.4bn of capital efficiencies – exceeding the target of £1.212bn.
To back this up the company provided 200 case studies of management action taken to deliver more efficiently during the road period. The majority of the efficiency has come from renewals (54%) and major improvement schemes (43%), the ORR said.
John Larkinson said: 'I got this a couple of times from Jim O'Sullivan: stop treating us like Network Rail. Network Rail has spent 10 years working out how to do this kind of efficiency analysis, exactly how to calculate it. What do you expect, that we'll have it all done in the next month or something?
'Over time, the issues became clearer; we flexed, they flexed, but within that always keeping your eye on the fact that there is a performance specification; they are the obligations on a company that is being given many billions of pounds.'
He added: 'There's a huge public trust question. If you can set an efficiency target, most people aren't interested in the details. What they do want to know is, have you met it?
'That was my simple point, that you need to prove to us: have you met it? It can't just be that you've got a few pieces of information and overall it looks like you've probably met it. It has to be a lot more precise than that, but on the other hand the systems required to show the business changes that you made to make sure that is a real efficiency, they're not easy to compile.
'First of all, Highways England were in a bit of denial about it. They didn't want to have to go through the process. Then they realised they did have to go through it. We were never going to give up.'
Mr Larkinson cited his experience with Network Rail, for whom the ORR is the regulator and which has recently hit its efficiency target: 'The failure to hit that in previous years had undermined their case for further public funding.
'So it was very important that Highways England could make that number add up. [Eventually] they convinced us. They did a really good job in the end.'
According to the annual assessment, Highways England is required to provide evidence of efficiency through primary evidence from efficiency case- studies; unit costs and delivery of the RIS.
The document states: 'Ultimately, our review found that there was reasonable evidence of efficiency exceeding the KPI target.'
Mr Larkinson also described the prime minister's plan to 'build, build, build' as a big issue for Highways England.
'Highways England will be looking at options to try and speed work up, do more work; that will be a big new challenge for Highways England. In time, how it reacts to that, what's possible and what's not, I think will also be [a challenge].
'They are working quite carefully through this because it's got to be deliverable within Highways England's overall – and the supply chain's – capability but not at the cost of knocking out things that are already trying to be delivered. Quite a few schemes are optimised around impacts on existing road users as well and disruption on those areas. All those factors have got to be taken into account.'
A full interview with John Larkinson will be published in the August/September issue of Highways magazine. Sign up for print subscription here and digital here.