What are the challenges to improving air quality and how can local authorities tackle them? Carl Dyer, chief technology officer for SWARCO in the UK, takes a look.
The Government's announcement in March to grant a further £2.2m in funding for its Air Quality Grant scheme is set to help local authorities across England to deliver innovative projects to improve air quality.
This latest funding round of funding from The Department for Environment Food & Rural Affairs (Defra) means that more than £64m has been awarded through the scheme since it was launched in 1997.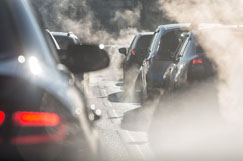 In recognition of road transport being one of the central sources of pollution, the Government has been working to remedy many of the problems.
There have been and are a number of funding schemes under the UK's plan to tackle roadside nitrogen dioxide concentrations, which include investment in the UK's charging infrastructure for ultra-low emission vehicles (ULEVs), promoting cleaner road transport, a plug-in taxi programme, a green bus fund to help put new low carbon buses on the road, and a cycling and walking investment strategy to encourage people to be less reliant on personal and public road transport.
Poor air quality affects us all. It has a cost for our health, our environment and the economy. Although air quality has been improving since the 1970s, Defra says that the trajectory is slowing. In fact, Defra's aim to reduce emissions of nitrogen oxides (from the 2005 baseline) by 55% by 2020 was not met.
The next target is to reduce emissions by 73% by 2030 if we are to ensure the protection and health of people and the environment. So there is still more to do, and the greatest success will come from the public and private sector working together to deliver innovative projects to make air quality improvements and create cleaner andhealthier environments.
Measuring impact
Since 1997, each local authority in England has been reviewing and assessing air quality in their area, measuring air pollution and trying to predict how it will change, with the overall aim of contributing towards the UK achieving its national air quality objectives.
Defra provides an air pollution information service that uses an index and banding system recommended by the Committee on Medical Effects of Air Pollutants. The index is numbered 1-10, divided into four bands (low, moderate, high and very high) to provide more detail about air pollution levels.
Although air pollution has reduced significantly over the last few decades it is of course still having an impact on UK communities and this is no time to rest on our laurels. It is crucial that we continue to tackle the issue and make further reductions to improve air quality and continue to protect residents and the environment.
Transport is a key area
The immediate air quality challenge is to reduce emissions of nitrogen oxides in the areas where concentrations of these harmful gases currently exceed legal limits.
In 2015, the Government revealed its plan to create Clean Air Zones (CAZ) to help tackle rising levels of nitrogen dioxide, with five cities – Birmingham, Leeds, Derby, Nottingham and Southampton – mandated to introduce a CAZ. However, thus far only one has been approved and introduced, two have been scrapped.
Another 23 local authorities were also highlighted as having illegal predicted levels of pollution by 2021, but any plans to introduce CAZ's in these areas have been halted due to financial restrictions.
The CAZ initiative is not without its sceptics, and there has been much discussion about both the scope of the plans and the level of financial backing it has received. Indeed, UK100, who represent city leaders and mayors across the UK, have called on the Government and private sector to invest a further £1.5bn on the scheme.
New factors affecting progress
Ride-hailing apps such as Uber have continued to grow in popularity and increased usage, with consumers looking favourably at the ease and convenience of getting from A to B at the touch of a button on their smartphone. But are these apps helping to reduce harmful pollution and emissions? Or are they in fact contributing towards it further? A recent study by the Union of Concerned Scientists reports suggests that ride-hailing trips are about 69% more polluting than the types of trips they are replacing.
However, the study also highlights the positives of ride-hailing. For example, findings show that two passengers sharing a vehicle or 'carpooling' has 33% lower emissions than a non-pooled ride-hailing trip.
It also pinpoints the effectiveness of electric vehicles, with data showing that electric ride-hailing trips can cut emissions by around 50% compared to the average private car journey.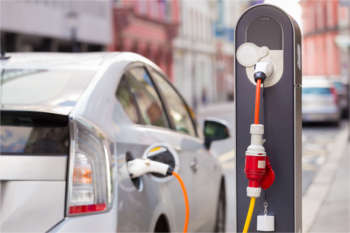 This can be supported by better provision of EV charging infrastructure, an area in which the SWARCO Group is heavily engaged. The Government has created a number of schemes to aid this and support local authorities. These schemes include the plug-in taxi grant, along with on-street residential charging points and workplace charging, which a number of authorities have already began to implement and which all go some way to supporting drivers to transition away from fuelled cars.
EV Infrastructure
There is momentum behind initiatives that support people and businesses converting to plug-in vehicles and this is being supported by the growing investment to extend and build a much denser charging infrastructure network. For example, experts from within our eMobility business, SWARCO eVolt, report that the knowledge and sophistication of the tenders is improving and it is an exciting time to see such a strong focus on one of the major factors that will lead to a tipping point for EV adoption.
The key to building an EV infrastructure that is capable of dissolving any lingering 'range anxiety' is having a comprehensive network with charging points in appropriate and strategic places.
The UK needs to replicate the network of petrol stations with charging hubs, such as the successful ones in Dundee, supported by other stations in easy reach along key routes, prominent on-street charging where drivers need it, and workplace and residential charging wherever possible.
The announcement at the beginning of the year which saw the Government pledge that no EV driver should be more than 30 miles from a charging point, shows a vision where range anxiety should no longer exist.
This hope echoes the work already being done by Highways England, which is spending £2.8m to install 50 new EV charging points across the country's strategic roads to expand the national network of charging infrastructure. SWARCO eVolthas been working in partnership with Highways England to carry out the works in the South of England, and has been pinpointing strategic locations so that a driver is within the desired 30 miles of a public charging point.
Re-routing traffic
Finding ways to re-route traffic, especially away from the most highly populated areas, is another tactic in the Government's strategy to reduce pollution and improve air quality.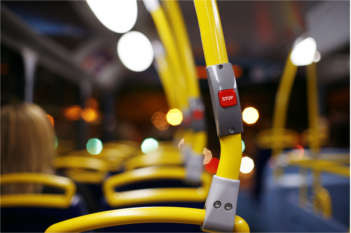 Similar to how your sat-nav can guide you to a faster route, councils can now monitor pollution levels on key corridors, and update the live journey times on diversions to encourage users to take them. This not only benefits the local communities, but also the drivers, especially during peak commuting time when pollution levels (and congestion) are at their highest.
By re-routing traffic, journeys can not only be made quicker, but they can also be made safer.One way this is being implemented is by utilising Variable Message Signs, which show live diversion routes and traffic notices, which can be changed and updated almost immediately. Similarly, local authorities can collect live vehicle data, including make, model and fuel type to identify high emission pockets within city centres and act to address them.
Nottingham City Council is already working with parking solutions business APT Skidata to reduce harmful emissions in areas of the city. Creative software solutions are being used to analyse the data, which in turn can be used to implement initiatives such as creating 'green' tariffs to reward the most environmentally friendly drivers (i.e. electric or hybrid vehicles) and identifying and creating car parking promotions outside of these pockets. They are also helping to plan for the EV charging infrastructure needed to support EV drivers.
Cloud-based solutions
In today's modern world it's important to ensure that highways infrastructure can interact with modern day smart technology and inform local authorities and support help them to manage solutions effectively. SWARCO MyCity is just one example, and Wolverhampton County Council is using it to monitor air quality, provide live and updated journey times, as well as using VMS to give drivers traffic and congestion advice.
MyCity is a modular platform that combines the functionality of a 'traditional' traffic management system with the ability to carry out tasks such as remote monitoring of pollution levels and electric vehicle charger status and then update traffic controllers and signage accordingly. It can also check car park capacities and monitor journey times.
Of course, there isn't a one size fits all solution, and each local authority has its own challenges to consider when it comes to tackling harmful emissions and improving air quality. However, each local authority has a responsibility to protect its residents and its area's environment, and Defra's next target in 2030 is not so far away. So more innovative projects and schemes are required if we are going to make the necessary improvements.