New ADEPT president Nigel Riglar has revealed to Highways magazine his presidential theme and priorities for his time in the top chair.
The director of environment and community services at South Gloucestershire Council has chosen 'keep our places extraordinary' as the motto for his stint at the top of the council directors' body.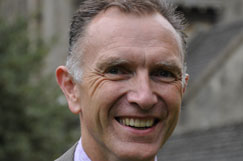 The phrase covers a range of priorities designed to benefit quality of life, environment, health and resilience but it is the fundamental relationship we have with the network that intrigues him most.
'The issue that is closest to my heart is the interaction between people and place. Really rethinking the relationship between people and place to build consent for new ways of using the highways network,' he told Highways.
A new understanding
'Together with that reallocation of road space we are seeing recently, we need to build an understanding within our communities to accept a different use of highway estate. In the short-term this is in response to COVID-19 and social distancing needs, but in the longer-term the need is for us to respond to a climate emergency.'
He argued that the lockdown had made people rethink the use of their local place and whether it does what they need it to, enabling a stronger debate around the nature and use of local places.
'I think the challenge is how we start to rethink the quantum of road space and how we share it and access what we need in different ways. Some of it is having a debate about what we need the highways network to do and I think COVID-19 is an interesting lens to look at that through.'
Discussing the COVID-19 response, Mr Riglar said in support of the wider effort 'we as highways authorities have to build the argument and consent for reallocating road space'.
'We have to reallocate away from the car and towards public transport users and cyclists. That is going to be a real challenge this year.'
Immediate and long term
As he laid out his key focus for his year in office, Mr Riglar said an immediate priority was securing funding certainty.
Last week, Highways revealed the concerns within ADEPT around the approaching financial cliff edge for next year, as councils have not been told what cash settlement to expect.
Mr Riglar said councils were in a 'quandary' and colleagues were right to raise concerns.
When asked when the deadline would be for funding notification before damage to asset management plans might be done, he suggested 'in a manner of speaking it is already too late', as without medium to long-term funding councils lose the benefits of best practice asset management.
He added that ADEPT would also keep up the fight against competitive bidding processes.
'Virtually all local highways authorities have very strong asset management processes and if you give us the money we can get on with it but we constantly finding ourselves bidding.'
With a background in environmental science, Mr Riglar is acutely aware of the issues around the climate change agenda.
As part of this, he said he was keen to reduce emissions on the network, help support decarbonisation both within local services themselves and with the way the network is used, and build resilience in the network.
His other key focus is to push the outcomes of ADEPT's Live Labs project - a government funded programme of innovation field testing.
'The Live Labs are exploring and stretching the boundaries of what the local highway network can enable in terms of economic, and community growth and I will be making sure we are getting strong learning coming out from that across the sector.'