Highways England's target to cut the number of people killed or seriously injured (KSI) on its network could be revised for a second time, it has emerged.
The government-owned company has a key performance indicator to reduce the number of KSIs on the strategic road network (SRN) by 40% by 2020, against a baseline of the 2005-09 average.
As our sister publication Highways has revealed, this baseline and therefore the 2020 KSI target have been adjusted to take into account changes in reporting methods that are believed to have increased the number of injuries classified as serious.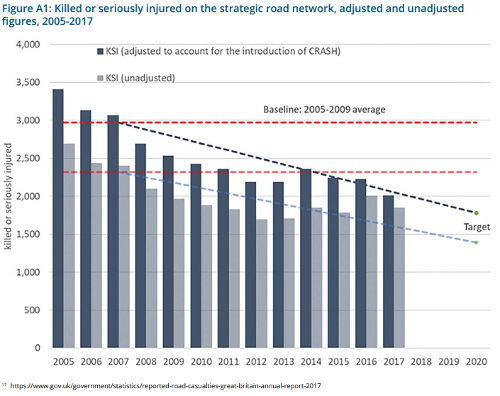 Although unadjusted KSI numbers rose between 2015 and 2017, in its latest annual assessment of Highways England's performance, regulator the Office of Rail and Road (ORR), said the adjusted data showed a 32% reduction on the baseline, which 'puts Highways England on the straight-line trajectory required to meet its target' (see graph).
Highways England has already disclosed that the unadjusted number of KSIs on its network rose again in 2018, with 250 reported road deaths, an increase of 5.9% compared with 2017; and 1,737 people seriously injured, an increase of 7.4% compared with 2017.
A Highways England spokesperson told Transport Network: 'We are currently reviewing the adjusted figures based on the latest assessment; this includes a review of our targets to ensure they accurately reflect the latest position working closely with ORR [Office of Rail and Road] and DfT. We expect this work to be completed in the coming weeks.'
A spokesman for the ORR, said: 'We expect the KSI target, which is currently specified as 40% reduction from the 2005-2009 baseline, will be reviewed.
'The Department for Transport's latest casualty statistics have meant that earlier data has had to be revised to account for the impact of the new Collision Reporting and Sharing system, which has changed the number of KSIs in the baseline and consequently will change the target for the end of the RIS.
'We expect the target to remain the same – a 40% reduction on the 2005-2009 baseline, but the absolute numbers will change.'
The spokesman pointed out that the ORR's annual assessment states: 'The Department for Transport advises that these data may be subject to further revision in future years as more police forces move to new systems for reporting road casualty data.'
The Department for Transport said it updates the adjustment every year to take into account changes in severity reporting systems.
However, the adjusted data already assumes that all police forces used a new 'injury-based' severity reporting system.