Highways England has announced that operational staff in certain roles, such as construction managers, 'will be restarting site visits' this month.
It detailed that all visits 'will be pre-agreed in writing with the on-site supply chain representative and a range of controls will be jointly defined to ensure all parties safety prior to the visit'.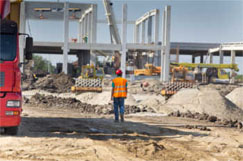 Highways England procurement director Malcolm Dare made the announcement in his regular circular to keep the industry up to the date with the fight against the coronavirus and the ongoing recovery.
He said: 'We hope that this visible managed return of Highways England Operations personnel to your sites will help you in delivering the essential programme of work that we need to jointly deliver.
'Major projects are also re-starting site visits and safety tours in a similar way. Again all visits will be pre-agreed in writing with the relevant on-site contact and each visit will only be for the duration needed to complete the stated purposes of that visit. '
Mr Dare also celebrated Kier's success in reducing its accident frequency rate (AFR) by half - a target Highways England recently challenged the entire supply chain to meet.
The government-owned company stressed the importance of companies 'halving their AFR rate by the end of March 2021'.
'Please ensure that you have plans to achieve this and that these plans also cover your lower-tier suppliers in order to embed the required cultural, leadership and physical changes across the industry,' Mr Dare said.
He went on to reveal that through this tactic, Kier had already achieved the 'stretch goal' of reducing AFR by half at the end of May.
The company had reduced its AFR to 0.03 compared with the December 2019 AFR of 0.06.
Payment Performance:
Over May, Highways England achieved 96% of payments into supplier bank accounts within five days, an increase of 22% since before the C-19 outbreak.
In total, £443m of payments were made to suppliers in May.
Mr Dare also thanked the main contractors for making 'slightly quicker PBA (project bank accounts) payments to tier 2 suppliers', but asked industry to 'continue to ensure that cash flows quickly through all tiers of the supply chain for correctly invoiced and completed work'.