The Government has told BBC's Panorama that 38 people have been killed on smart motorways over the last five years.
Freedom of Information requests sent by the BBC to Highways England also revealed that on one section of the M25 the number of near misses had risen 20-fold since the hard shoulder was removed in April 2014.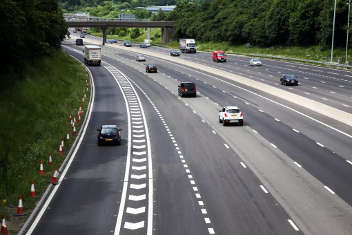 'In the five years before the road was converted into a smart motorway, there were just 72 near misses. In the five years after, there were 1,485,' the BBC reported.
A "near miss" is described as an incident with 'the potential to cause injury or ill health'.
The idea behind the programme was to increase capacity without the cost of building new routes and create more free-flowing traffic, but it is now facing an overhaul after transport minister Grant Shapps announced a review last autumn - the results of which are now overdue.
The smart motorway programme has several different variations; some permanently remove the hard shoulder meaning drivers might break down in live lanes of fast-moving traffic, others do this on a 'dynamic' basis where the shoulder would sometimes be closed off and sometimes open to traffic.
Highways England has recently said it would scrap the so-called dynamic hard shoulders.
Perhaps most concerning variation is the fact that not every smart motorway section had the same technology to help detect vehicles that had broken down or been involved in collisions in moving traffic.
A planned roll-out a radar system Highways England developed to help detect stopped vehicles across the entire smart motorway network could take place 'over the next three years', the BBC reported, although it is unclear from previous Highways England statements whether they have the capcity to do this. These systems are currently only fitted to two sections of the M25.
Highways England have also previously announced a retrofitting of refuge areas to the current network to make sure the distances between them are not as great. On some sections, they are 2.5 miles apart.
However, this is unlikely to allay fears as Highways England has already conceded it could not guarantee the system works in all situations.
After sending out mixed messages over the effectiveness of its stopped vehicle detection (SVD) system, a letter to a coroner from chief engineer Mike Wilson following a fatality on the M6 smart motorway gave the clearest indication yet of its limitations.
At times of high traffic flow, Highways England admitted system throws up an 'unmanageable number of false alerts', while the radar system developed to provide SVD has only been successfully trialled in low traffic flow conditions.
In high flow traffic, Highways England said its MIDAS (Motorway Incident Detection and Automatic Signalling) system would 'take over' and could 'help mitigate the risk to stopped vehicles' however it does not provide SVD. This system uses inductive loops in the roadway to measure the flow of passing traffic.
Chief executive Jim O'Sullivan admitted to the Transport Select Committee last year that MIDAS is an 'inadequate proxy' for SVD as it is not designed to pick up a stopped vehicle but only alert operators to changes in traffic flow – a sudden slowing of traffic being used as a proxy for a potentially stopped vehicle.
MIDAS's traffic management capabilities were also subject of a 'comprehensive review' from Highways England in 2018 after it started throwing up false results and leading to unnecessary speed restrictions being put in place.
In his letter, to Emma Brown, area coroner for Birmingham and Solihull, Mr Wilson stated that Highways England is 'exploring other technologies, which could reduce the risk to stopped vehicles in higher flow conditions'.
He added that 'innovative solutions' to be explored included 'CCTV analytics, vehicle telemetry and crowdsourced data.
However, he warned that as these technologies required evaluation and testing, Highways England was unable to state when they would be implemented.
When appearing before the Transport Select Committee last October, Highways England chief executive Jim O'Sullivan conceded that using radar to detect stopped vehicles was 'challenging', adding, 'we are looking to other technologies in the future and what might be out there to help'.
However, he also admitted that at least some lives would have been saved if the SVD systems had been rolled-out further.
Highways England has previously stated that the tendency of MIDAS to create false positives undermines its ability to detect and manage abnormal traffic flows.
A Highways England spokesperson said: 'The second Road Investment Strategy that will set an investment plan and performance specification for Highways England is expected to be announced soon. Highways England will publish its delivery plan shortly afterwards.
'The secretary of state commissioned an urgent piece of work to gather the facts about smart motorway safety and make recommendations. We are not going to pre-empt the outcome of that work.'
Mr Wilson's letter to the coroner was in response to a 'Regulation 28 Report to Prevent Future Deaths' following the case of Dev Naran.
The eight-year-old died when the car in which he was a passenger was hit by a lorry on the M6, having stopped in the hard shoulder when it was being temporarily used as a live lane under the 'dynamic hard shoulder' version of a Smart Motorway, which is only used during high traffic flows.
Ms Brown said she had issued her report out of concern that 'the particular nature of the risk on this section of the M6' is not regarded as an acute problem by Highways England 'when it should be and that I was not given evidence of specific work being undertaken to address this particular risk'.