Reaction to the Government's latest announcement on smart motorways has focused on the need to deliver additional emergency refuge areas (ERAs), while broadly supporting the freeze on new all lane running (ALR) schemes.
In its response to last year's inquiry by the Transport Select Committee, the Department for Transport committed to retrofitting a further 150 ERAs by 2025 but did not commit to continuing this into the third (2025-30) roads period.
Rebecca Needham (right), road safety officer at the Royal Society for the Prevention of Accidents, who appeared as a witness before the inquiry, described the pledge as 'vitally important'.
She said: 'Currently on ALR motorways, the emergency refuges are spaced at up to 1.6 miles apart.
'Today's report adopts RoSPA's recommendation to reduce the distance between safe stopping places on ALR motorways to a maximum of 1,500 metres and down to 1,000 metres (0.75 miles) where physically possible.'
Neil Greig, director of policy and research at road safety charity IAM RoadSmart, said: 'IAM RoadSmart have continuously stated that smart motorways should never have been opened without the stopped vehicle detection technology delivering the guaranteed levels of incident management that were promised; in addition, it became clear very quickly that the spacing of refuge areas is not sufficient.
'Given that the data collected will determine the future smart motorway strategy we are concerned that the clock is already ticking and will be urging the government to prioritise the proposed upgrades so they can have the maximum impact.'
January 12, 2022
Campaigner Claire Mercer, whose husband Jason and another driver were killed on an ALR section of the M1, said the pause was 'some small good news' but not enough and that the hard shoulder should be 'back in every single case'.
She told the BBC: 'They could have just flicked the switch and closed the first lane on every single instance but instead they are going to pause the roll out of new smart motorways but only the ones that are less than 50% completed. If you think something is dangerous you isolate it while you investigate it.'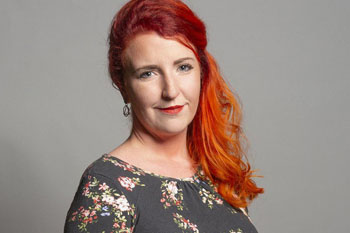 Labour's shadow transport secretary, Louise Haigh (pictured), also said ministers 'should reinstate the hard shoulder while the flaws are addressed, critical safety work carried out, and a further review of evidence has taken place'.
She said: 'The botched roll-out of smart motorways has cost lives. Labour have long warned of the serious flaws, and it is a tragedy lives were lost before action was taken. It is thanks to the dedication of bereaved families that the roll-out has been paused at all.
'It is simply staggering that years after the first smart motorways went live standard safety features to detect broken down vehicles in live lanes have still not been fully rolled out, and the CCTV is not routinely monitored.
'And given the radical change that smart motorways represented, it is difficult to believe it took until March 2021 for a proper information campaign to be launched. As a result, almost half of motorists say they do not know what they should do if they break down.'
IAM RoadSmart and RoSPA also raised the issue of driver awareness.
Mr Greig said: 'IAM RoadSmart are ready to work with the authorities to educate and inform drivers and riders about the safest ways to use new motorway designs.
'For far too long it was assumed that users would simply adapt to the new rules but the lack of information has been a key issue for us and during this evaluation period we will campaign for more to be done to ensure that smart motorway users become increasingly confident in using them and feel safe in doing so.'
Ms Needham said: 'RoSPA also embraces the recognition in the report that further effort is required to better inform motorists about how to safely navigate smart motorways and we look forward to supporting this.'
Rebecca Lush, director of campaign group Transport Action Network, said: 'Transport Action Network would like to pay tribute to the tenacious and extremely effective campaigning by Claire Mercer and her team at Smart Motorways Kill, and the bravery of the families who have also spoken up about their tragic losses.
'It was their relentless campaigning and bravery that has resulted in the Transport Select Committee's recommendation and forced the Government to take action.'