National Highways is to trial an automatic taper that can close off lanes in minutes on the network.
The government-owned company said SwiftGate can be fully deployed in around five minutes compared to the 25 minutes it takes road workers to put out the taper of cones directing often fast-moving traffic away from a live lane.
It is being installed at the A3 Hindhead Tunnel in Surrey which requires regular closures for essential maintenance work. National Highways said that during 2019 there were 14 vehicle incursions into these roadworks.
It has now teamed up with Kier and Highway Care to trial the automated taper gates on both carriageways of the tunnel.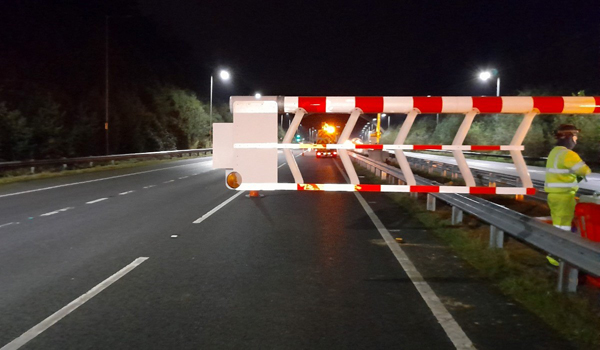 The gates filter traffic out of the traffic lane, after which cones can be put out beyond the taper to mark out the closed-off lane. National Highways' head of lean and continuous improvement, Martin Bolt, said:
'Installing and removing a taper of cones in the face of traffic exposes our road workers to risk, particularly on elevated sections of road, bridges or tunnels where there may not be an embankment or place of safety.
'The automated tapers free up workers to do other jobs and can be put out in just 50 seconds meaning work can begin straight away with less disruption for road users.'
Kier Highways senior project manager Mark Sheppard said: 'The SwiftGate project will give us a great opportunity to trial something that is completely new to the National Highways network, that will modernise the standard approach to road worker protection.'
Highway Care business development director Ben Duncker said: 'We are confident that the system will be a success in not only improving the safety of our traffic management operatives but also improving customer journeys through the faster and more efficient closing and re-opening of lanes.'