Council leaders in Birmingham are planning a dramatic shift away from car use, including preventing trips through the city centre.
Birmingham City Council has published a draft Transport Plan to support 'Birmingham's commitment to becoming carbon neutral by 2030' as well as 'prioritising people over cars and revitalising the city centre and local centres'.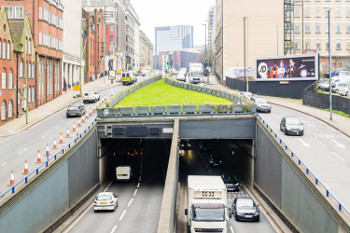 The council said the plan sets out four 'big moves':
reallocating road space
transforming the city centre
prioritising active travel in local neighbourhoods
and managing demand through parking measures.
Under the heading 'transforming the city centre', the plan states: 'Access to the city centre for private cars will be limited with no through trips. This includes looking at different options for the central section of the A38 including re-routing it to an upgraded ring road.'
The move appears to be based on remodelling traffic flows within the city centre. The document states that changes to the A38 would mean that 'vehicles on journeys passing through the centre of Birmingham would be kept clear of the city centre'.
A vehicle could access the centre, but not pass through and would have to go back to the ring road in order to pass around.
The moves comes on top of Birmingham's low emission zone.
The city is also planning a workplace parking levy.
Cllr Waseem Zaffar, cabinet member for transport and environment, said: 'As a city, we have been over-reliant on private cars for too long and with more people choosing to live and work in Birmingham, we need to find innovative new ways to keep the city moving in an efficient but sustainable way.
'The more journeys we take by walking and cycling, the more we will improve air quality and our health and the more we will reduce congestion. For longer journeys, buses, trams and trains will be the backbone of a new, go-anywhere transport system.'
Under 'reallocating road space' the document propses 'moving away from single occupancy private cars to support the delivery of a public transport system fit for a global city, fundamentally changing the way that people and goods move about the city'.
Under 'prioritising active travel in local neighbourhoods' the plan statest that 'walking and cycling will become people's preferred mode for travelling around their locality', supported by a standard speed limit of 20mph.
'Managing demand through parking measures' includes using availability, pricing and restrictions to manage demand for travel by car. The plan confirms that the council is to take forward plans for a workplace parking levy.
Subject to cabinet approval next week, the draft plan will go out to public consultation at the end of the month.