The ongoing battle between Bristol City Council and government over the authority's failure to address air quality issues has taken another turn after it watered down its most recent efforts.
Bristol's attempts to avoid charging drivers of private vehicles under a Clean Air Zone (CAZ) could be at risk after the Government said it would ensure the council's plan cuts air pollution as quickly as possible.
The council has watered down one element of its plan – a proposal for a city centre ban on commercial vehicles – since submitting the plan for government approval.
A Defra spokesperson told Highways: 'We will assess Bristol City Council's plan to ensure it is effective, fair, good value and will deliver the required improvements in air quality in the shortest time possible. We will respond to this plan in due course.'
As Highways has reported, Bristol has been reluctant to implement a Class D CAZ, which charges drivers of the more polluting private vehicles.
Instead it has combined a Class C CAZ, which exempts private vehicles with a potential diesel ban.
However, for reasons that are unclear, the council does not appear to have modelled the impact of combining a Class D CAZ with the diesel ban.
Such an approach could well bring nitrogen dioxide pollution within legally binding limits more quickly than the council's proposals, which are not expected to achieve compliance until the middle of the decade.
In October, Katie Nield, a lawyer with environmental campaign group ClientEarth told Transport Network that the proposals 'stop short of ridding the city of its illegally toxic air with the necessary urgency'.
The council has also repeatedly missed government deadlines to develop its plans, despite threats of legal action that have yet to be acted on.
It submitted an outline business case to environment department Defra last November and has yet to provide a full business case.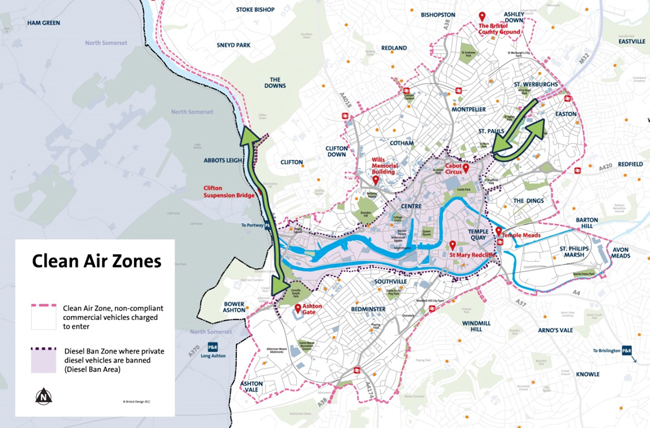 In a blog post in late January, Bristol mayor Marvin Rees wrote: 'Let me reassure [residents] that we are making good progress on refining the plans and hope to be able to flesh out more of the details in the next couple of months.'
He wrote that council officials 'have been in regular discussion with the Government's Joint Air Quality Unit (JAQU), but we are still waiting for their formal direction on the next stage of our plans. We will hopefully get this in the next few weeks.'
Mr Rees added that discussions on how best to minimise the impact of the plans 'have led to us making some adjustments to the diesel ban area'.
These include allowing diesel cars to travel from the A370 to the A4, allowing access to Cabot Circus shopping centre for diesel cars and dropping plans for a weight restriction on Marlborough Street and Upper Maudlin Street.
He wrote: 'Following extensive modelling it was agreed to remove the weight restrictions because this didn't contribute to achieving compliance any sooner than if a weight restriction was applied.'
Significantly, Mr Rees did not assure residents that reducing the area covered by the diesel ban would not affect compliance dates.
He added that the council was very close to agreeing a package of exemptions and mitigation measures, which is likely to include exemptions for disabled passenger vehicles and blue badge holders, for exemptions for low income households and for patients needing to access the hospital.
Mr Rees acknowledge that the council does not have the legal powers for a diesel ban but said it was continuing to work with the Government on this.
Highways has approached Bristol City Council for comment.