Highways England is carrying out a 'comprehensive review' of variable speed limits on motorways but has defended its practice of implementing restrictions before drivers hit congestion.
Using data obtained from the police under the Freedom of Information Act, The Times reported that 72,348 people were fined on motorways with variable speed limits last year – almost double the number a year earlier and a tenfold rise in five years.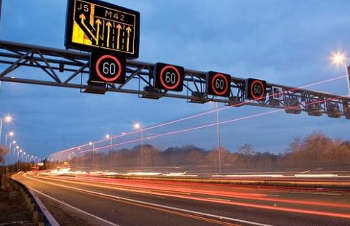 Highways England told the Times that training for operators had been updated and that more warning was being given to motorists about limit changes.
It added: 'We want to ensure that what drivers see also feels relevant to the traffic conditions, so we've improved the way we set message signs and signals on smart motorways and have started a comprehensive review of how variable speed limits are set, including the amount of time they are visible to drivers.
'Our initial analysis of actual traffic flows and changing the algorithms has already reduced the amount of time variable speed limits are on by 200 hours per week across the network.'
Highways England executive director of operations Nick Harris said: 'Variable speed limits help keep drivers moving by smoothing the flow of traffic and improve safety for all road users. We have trialled an improvement to the signal settings to reduce the length of time these are set to help restore the national speed limit quicker to further improve journeys.'
AA president Edmund King said: 'This begs the question of how many thousands of motorists have been caught out when they shouldn't have been; when they were fined on roads with limits that were artificially set too low.
'This is an issue we've raised with Highways England because we have too many members saying they're driving down an absolutely open road with 50 or 60mph speed limits on the overhead gantries.'