The Road Safety Markings Association (RSMA) has endorsed the Diabetes Safety Organisation's 'Tackling Diabetes Safety Charter'.
The charter has been developed to support companies in protecting their staff from diabetes risk and to help change the current perception that exists around the condition by providing companies with the means to inspire change.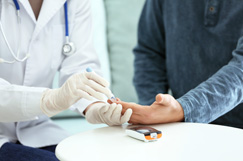 By signing up to the charter, companies can make a positive commitment to improving their staff's understanding of the condition. It also helps companies put in place the correct diabetes policies, risk assessments and ensure they have diabetes first aid kits at work.
RSMA CEO Stu McInroy said: 'In the UK, 700 people a day are diagnosed as having diabetes; increased awareness and understanding is vital.
'The RSMA is delighted to support the Tackling Diabetes Safety Charter. The Diabetes Safety Organisation presentation was one of the most powerful at our 2019 Conference and we are pleased to be able to assist them in raising awareness and understanding of the subject across our membership.'
More information on the charter can be found on the Diabetes Safety Organisation website.
Established to represent its members and to promote the industry as a key component of a safe and effective highways network, the RSMA also plays a pivotal role in developing and supporting the road marking industry.