This year Traffex - one of Europe's largest highways and transport technology shows - has given a special focus on the next generation of engineers and innovators.
People of all ages are of course welcome across the entire three day event form 2 to 4 April. However particular invites have been sent out to encourage students, apprentices and graduate trainees to take part in discussions and visit the exhibition on Thursday 4 April, known as 'Futures Day'.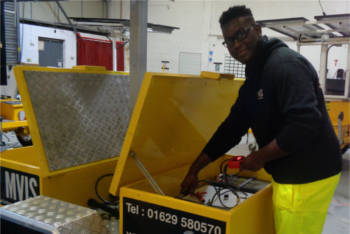 The event, supported by key organisations such as the Institute of Highway Engineers, ITS (UK) and ADEPT, will feature discussions relevant to the next generation of industry professionals including an interactive Q and A with industry executives who'll give top tips on how to progress.
Traffex head of content Paul Hutton explained: 'We often hear people complain that they struggle to recruit good people, so here is an opportunity for people to engage with the next generation on their exhibition stands and show what a huge and exciting array of things our industry does, and therefore offers a choice of career options to fit a wide range of skills and interests.'
Exhibitors are already planning demonstrations on their stands, including WJ Group, who will show how their road marking material is mixed. Others are pledging to bring their apprentices and other new recruits along to take part.
Futures Day is open to any young professional, or student interested in the sector as a career, as long as they are over 16 years of age. To sign up click here.
Traffex is co-located with Parkex, Europe's largest dedicated parking exhibition showcasing hundreds of the newest and most innovative parking technologies.
The annual British Parking Association (BPA) event is where the sector comes together to find solutions to the latest parking issues.
Over the three days, visitors will be able to draw on the knowledge and experience of exhibitors, take advantage of an extensive programme of seminars and presentations at the Parkex Hub, and connect with other parking professionals at the BPA stand and throughout the event.
To register for Traffex, which includes entry to Parkex, click here.
The picture shows MVIS apprentice technician, Kiran Dawkins