Leading road marking company WJ Group is pulling out all the stops for Traffex Seeing is Believing this year on 27 to 28 June at Bruntingthorpe, Leicestershire.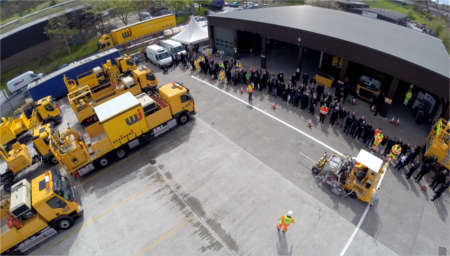 The company will be carrying out live demonstrations of a raft of revolutionary techniques and innovations, with a focus on automation - an area the company has been targetting for some years now.
New techniques include:
Robotic premarking
Contramark Fully Automated Surface Applied Temporary Road Stud System
Automated Bag Loading Conveyor System
Multitask delivery of new Weatherline DOT only markings
The demonstrations will form part of a 'Future of Road Marking' presentation, part of the company's ongoing mission to boost the image of the sector from misconceptions to the reality of a modern, progressive and valued service within the highways maintenance and safety industry.
WJ Group managing director Wayne Johnston said: 'I am passionate about changing the way we work in this industry and will continue to invest in research and development to find better, more efficient and safer ways of working.
'For too long now, we have carried out various highway maintenance activities in the same way we did when I first came into the business more than 30 years ago. It's time for change.'