The president of the AA has criticised Highways England for not acting quickly enough to improve safety on 'smart motorway' all lane running schemes, including shortening the distance between emergency refuge areas for broken-down vehicles.
Highways England chief executive Jim O'Sullivan told the Times last week that all new smart motorways will have emergency areas (previously emergency refuge areas or ERAs) a mile apart, rather than a maximum of 1.5 miles at present.
This repeats a pledge Mr O'Sullivan made last January in a letter to Lilian Greenwood, chair of the Transport Select Committee, that maximum distances between emergency areas would be reduced 'on all future ALR [all lane running] schemes' in order to reassure drivers.
However, the Government-owned company told Highways that the change will apply to 'schemes being designed from 2020', stressing that it was 'to help drivers feel more confident'. It denied that this represented a delay, pointing out that Mr O'Sullivan referred to 'future' schemes and that its recent communications have specified 2020.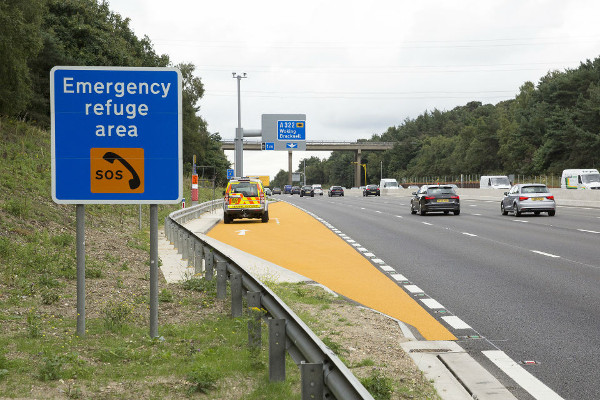 Speaking to Highways, AA president Edmund King noted that this means the safety improvement, which nevertheless leaves emergency areas around twice as far apart as on the first smart motorway on the M42 (up to 800m), will not apply to the M4 scheme, on which major works began after Mr O'Sullivan's letter.
Mr King said that although the M42 scheme was deemed to be relatively safe and worked well, 'when the Government and Highways England decided to roll-out the concept of smart motorways on the M25/M1 etc they did so by moving the goalposts without any consultation'.
He added: 'The spacing between ERAs was increased more than three times the length to every 2.5km Every time we have been told they are safe.
'They might be safe but they could be safer. If more ERAs are built in at the planning stage it is relatively inexpensive but would reduce the risk of drivers getting stranded in a live lane of traffic. It would also reduce congestion as a stranded vehicle in a live lane has a massive knock-on effect in terms of congestion. It also means that drivers could be recovered more quickly and more safely.
'We have been told that the spacing will now be every mile but that doesn't apply to the M4 while in the planning process despite us raising this at the very early stages of the scheme.'
Another issue over the specification of all lane running schemes is the roll-out of technology that uses radar specifically to detect vehicles stopped in live lanes, which then speeds up the process by which Highways England can, in theory, close lanes using red X signs on overhead gantries.
A Highways England spokesperson told Highways: 'Stopped Vehicle Detection is in place on the two M25 all lane running sections and we are preparing to install the system on the M3 junctions 2 to 4 upgrade, with work starting in 2019.'
The spokesperson reaffirmed a pledge made by roads minister John Hayes in a November 2016 letter to Mr King to roll-out stopped vehicle detection across existing and new all lane running schemes.
But the spokesperson added a further qualification: 'We will have a detailed roll-out programme once we have fully considered all the necessary potential technology solutions to ensure the most efficient and speedy implementation.'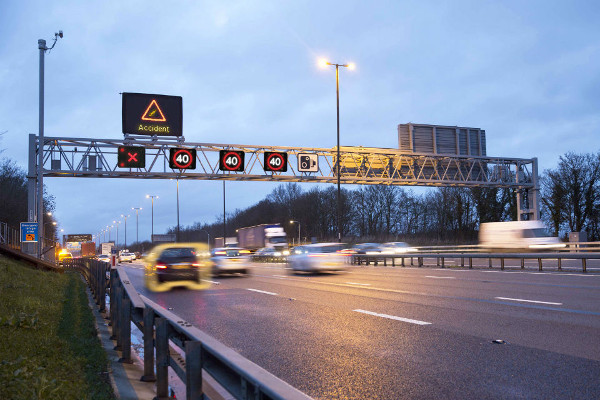 A Highways England image showing a car passing under a red X 'lane closed' sign
Mr King described his recent experiences on smart motorways, including an incident on the recently opened M3 scheme, which does not yet have stopped vehicle detection: 'Only yesterday I saw the terrifying sight of a lady driver stranded on the inside lane of the M3 smart motorway attempting to get an elderly lady out of the car.
'I hadn't seen a red X but there was a warning of "Reported obstruction ahead" and a 40mph limit. If that driver had seen an ERA in all probability she should have got out of the live lane. It was frightening.
'Last week I saw a small car had driven up a steep embankment off a smart motorway to get out of live traffic. I have listened to calls from drivers stranded in live motorway lanes and it is certainly not an experience I would not like to encounter; nor should anyone else.'