Compliance with London's Ultra Low Emission Zone (ULEZ) has continued to improve over the summer, with the percentage of compliant vehicles rising from 60.9% in March to 70.7% in April and 72.5% in July.
While the health benefits have been welcomed by the mayor's office, the success also translates to millions of pounds less income than projected by Transport for London (TfL).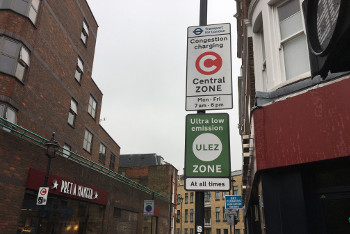 A report to the TfL board notes that as a result of better than expected compliance, income from the ULEZ for 2019/20 is currently forecast to be £51m, down 34% on a previous prjojection of £77m.
The ULEZ operates 24 hours a day in the existing Congestion Charge area of central London and charges cars, motorcycles and vans that do not comply with set emissions standards £12.50 a day or £100 per day for lorries and buses or coaches. It was introduced in April.
Compliance
There were 23,054 non-compliant vehicles and 60,844 compliant vehicles per day in July during Congestion Charge hours, compared with 35,578 and 55,457 respectively in March.
This meant that the overall number of unique vehicles detected per day in the zone fell from 91,035 to 83,899.
City Hall pointed to statistics showing improved compliance since February 2017, when mayor Sadiq Khan confirmed the introduction of the Toxicity Charge (T-Charge). There was an 85% increase in the proportion of compliant vehicles in the central zone from February 2017 to July 2019 (excluding non-typical days) during Congestion Charging hours.
In February 2017 there were 102,493 unique vehicles detected in the zone, of which 40,184 were compliant.
Mr Khan said: 'The figures prove that the ULEZ continues to have a significant impact with 12,500 fewer older, polluting vehicles now coming into the zone compared with March.
'These older vehicles send harmful emissions into our air and lungs and I will continue to take bold action to protect Londoners from this invisible killer. It is highly encouraging to see that so many motorists and businesses are helping reduce pollution by driving cleaner vehicles into the zone.'